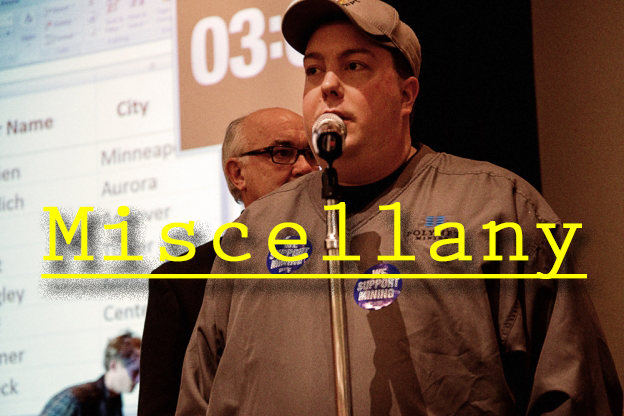 Miscellany: Tomassoni edition (1-24)
He's Exhibit A in the Range DFL's sense of government entitlement
Here's the lede from Michael Brodkorb's recent story in the Your Voices section of the Strib:
Since the news was first reported two weeks ago that the Range Association of Municipalities and Schools (RAMS) had hired State Senator David Tomassoni (DFL-Chisholm) to be the organization's new executive director while Tomassoni continued to serve in the Minnesota Senate, the issue has continued to generate headlines.
Questions have been raised about whether it is conflict of interest for Tomassoni to sit as a legislator and head an organization that not only lobbies it, but that receives funding from the state. Tomassoni swats away the concern by saying he'll take a leave of absence during the session.
In an earlier tweet, Michael linked to two Campaign Finance Board (one is actually from the CFB's predecessor) advisory opinions on conflicts where a legislator took a position with an organization that did lobbying before the legislature.
In previous CFB AOs, $ to legislator was issue: 2005 = http://t.co/zfafSotYrD 1997 = http://t.co/8Gygv2eRHB cc: @minnesotabrown @jpcoolican

— Michael Brodkorb (@mbrodkorb) January 12, 2015
Here's the summary of the opinion in the earlier case:
A legislator's vote which does not affect the legislator's financial interests, or those of an associated business of the legislator, does not create a potential conflict of interest under Minn. Stat. sec. 10A.07.
Both matters submitted for an advisory opinion involved legislators who were asked to serve on boards, "not an associated businesses of the legislator," and without pay.
In the 2005 opinion, specifically, the CFB said, If you start getting paid, come back and talk to us.
First, RAMS is an "associated business" of Tomassoni's if he takes the job. As its paid executive director, his votes will obviously affect his financial interests.
Hey, Davey, ya dinna do so good fer us dis year. Take a hike.
It is reported that Sen. Tomassoni got a "private" legal opinion that this was A-OK. I'd love to see that. Please forward it at your earliest convenience, Sen. Tomassoni. Absent its publication, I don't believe it exists.
– o O o –
Astonishingly, Sen. Tomassoni has managed to make other Range politicians queasy. Ordinarily, they're a stalwart bunch when it comes to scoring money from St. Paul. Aaron Brown has the details. Ely and maybe Virginia have deserted RAMS. A board meeting of RAMS was abruptly cancelled today.
If Sen. Tomassoni persists in this course, he is political toast. He ought to be, in an event.
– o O o –
It isn't a Miscellany unless there is at least one non-germane item. Here's the one for this story. This is a quote from David Hann's newsletter about the tax conformity bill, the governor's signature of which was delayed because the Car Salesman from Crown was out of town:
I'm pleased to tell you the tax relief bill allowing Minnesotans to take full advantage of federal tax deductions has passed both the House and Senate, and is headed to the Governor's desk for his signature. We commend the House Republicans for making this a priority. This year's timeline is a vast improvement over 2014, when tax filers and preparers were left in limbo until March. This year you will be able to receive your refund without filing an amended return.
Frank Luntz told David Hann to use the words "tax relief" wherever he can, so he does. There is a bill every year to conform the state tax code to the federal one. Only a breathless boob like David Hann would call it "tax relief."
Update: I see that in a tweet the governor's office called it "tax relief," too. Sigh.
Thanks for your feedback. If we like what you have to say, it may appear in a future post of reader reactions.