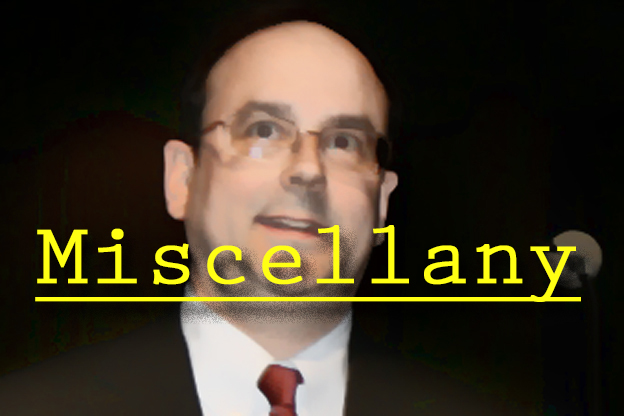 Miscellany – Uncle Billy gets a gig (1/30)
A perusal of the new roster of the staff of the houses of the legislature is always interesting, especially after a change in control from one party to another. And that's true of the House staff roster this year, too. One of the names that popped right out at me was Bill Glahn, everyone's favorite Uncle Billy:
Although he's just described as a "research consultant" above, the roster itself describes him as being attached to, that is, a creature of, the Republican Caucus.
He seems a little old for the gig frankly, as we'll see in a moment.
On Twitter, Bill Glahn describes himself as an "ungrateful peasant," nothing more. He used to be an assistant commissioner in the Department of Commerce under Governor Gutshot, and he ran for the House 49A seat — unsuccessfully — in 2012. The Commerce job is not mentioned, and there's no reference to the House job, either.
Glahn is a famous conspiracy theorist on his blog(s), and on the podcast he does with attorney John Gilmore. John and Bill are forever complaining about the nefarious goings-on of the DFL, or the "Democrat party" as they might call it.
He's apparently continuing on the podcast, hosted on the AM 1130 website. In the episode published at the link this week, Glahn's co-host John Gilmore says that Glahn is just out of town for the week.
There is no mention on the Gilmore & Glahn Facebook page of Glahn's taking the state job, nor can I find anything on his blog. Has anyone heard anything about this? Let me know in a comment if you have. Honestly, I can't bear to listen to the podcasts all the way through.
It seems like this is the kind of failure-to-disclose business that would have Uncle Billy's volume control set to "bellow" if the shoe was on the other foot.
Now I'm curious to know if Glahn is keepingyouhonest@mail.mn.
Update 2 – 3: In the Gilmore and Glahn podcast this week, John Gilmore said that Glahn was "on hiatus." The story last week was that Glahn was in wine country.
– o O o –
Another interesting new face in the House is Ethan Hellier. Ethan was last seen trying to shove a camera up the butts of several DFL candidates last campaign season for, I believe, the Minnesota Jobs Coalition. Which is, of course, especially interesting because his old boss is kind of the same as his new boss: Ben Golnik. Golnik was the executive director of the Minnesota Jobs Coalition, until he resigned to take the job of executive director of the Republican Caucus.
– o O o –
Ethan isn't the only proctologist on the House staff either. Amy Abby Michaud Loesch is a research consultant for the Republicans, like Uncle Billy, only with way fewer miles. Amy rode candidate Mark Dayton like a tick as a tracker in 2010. But back to Ethan for a moment; he's a Committee Legislative Assistant for the Republican Caucus.
It doesn't seem that the House is taking advantage of the advanced medical examination skills of either Ethan Hellier or Amy Michaud. Pity.
– o O o –
But we're not done yet! Brian Cook, associated with the dark money Minnesota Action Network, is also a research consultant for the Republican Caucus.
– o O o –
This lineup should go a long way toward explaining to you why Ryan Winkler's electioneering and disclosure bill will be a tough, probably impossible, pull over the next two years, at least.
So we can look forward to a lot more garbage like this, directed especially at our rural voter friends.
Thanks for your feedback. If we like what you have to say, it may appear in a future post of reader reactions.