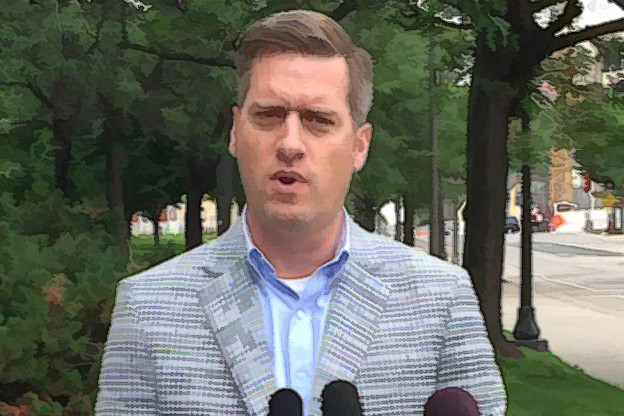 The dog in the manger
And the guy who wants to bunk in with him
Most of you know the Aesop's Fable:
A Dog looking out for its afternoon nap jumped into the Manger of an Ox and lay there cozily upon the straw.
But soon the Ox, returning from its afternoon work, came up to the Manger and wanted to eat some of the straw [let's hope it was really hay].
The Dog in a rage, being awakened from its slumber, stood up and barked at the Ox, and whenever it came near attempted to bite it.
At last the Ox had to give up the hope of getting at the straw, and went away muttering:
"Ah, people often grudge others what they cannot enjoy themselves."
Which bring us to Minnesota's dog in the manger, Kurt Daudt. On Thursday, Minnesotans' got the news that there would be no special session and no tax or bonding bills because of an impasse over the Southwest Light Rail:
GOP House Speaker Kurt Daudt, of Crown, called it a "boondoggle project" and an "inefficient" way to move people. He said that the project remains controversial because of an outstanding lawsuit against it and that he has additional concerns about the project's operating costs.
"I think these are going to be tough issues for Democrats on the campaign trail this fall," Daudt said.
Several alternative offers of metro-wide taxes were made to Daudt to provide the additional local funding needed to obtain the federal money for the project. Rural constituents wouldn't even have to contribute to it.
Personally, I think Daudt has made a big error in judgment, one that even Norm "Dark Dollars" Coleman may not be able to overcome. Which will, of course, put Ben Golnik back out on the street.
You will remember that two years ago the Republicans, and Dark Dollars Norm, ran on how much they were going to do for rural Minnesota. I always thought this was a cheeky claim, given that Lesser Minnesota has subsidized Greater Minnesota for a long time.
Nothing really came to pass, of course, even with the car salesman from Crown in charge.
Which brings us to Dario Anselmo, shown with Dark Dollars Norm, here.
I have been banned from the @AnselmoforHouse Twitter feed for a long time, but I did get this photo in the early days, actually two years ago with Anselmo ran against incumbent DFLer Ron Erhardt for the 49A House seat in Edina.
Dario still wants a place in the manger. After being beaten for the seat once, he's running again. Oh sure, he'll tell you what a moderate he is, that he supports education, transportation, and the environment.
In fact, he showed up (uninvited, I think; the briefing was for sitting legislators) at a legislative briefing put on by the Minnesota Environmental Partnership before the last session of the Legislature. He identified himself as running for Ron's seat as a moderate, adding — I swear, because I was invited and I was there — "like Ron used to be when he was a Republican."
My first thought was, "Well, then, Dario, what are you doing here? But then I recalled that Ron Erhardt, who was there and as aghast as I was, stopped being a Republican when the local party unit threw him out for supporting the override of Governor Pawlenty's veto of a gas tax increase in 2008.
Since one of the Environmental Partnership's legislative priorities was adequate funding for transportation and a much-needed increase in the gas tax, and since I also recalled that unimpeachable sources told me that Dario Anselmo was opposed to a gas tax increase when he was out on the husting in 2014, I put that to Dario at the briefing.
He denied it.
But it doesn't really matter. The Republican House caucus is against Southwest Light Rail, adequate transportation funding in general, and virtually anything else you care to mention that you, um, care about.
Dario can sell himself on what an agreeable, moderate fellow he is. But you must remember, my HD49A peeps, that a vote for Dario Anselmo is really a vote for the dog in the manger, Kurt Daudt. That's who Dario would vote for for Speaker.
Thanks for your feedback. If we like what you have to say, it may appear in a future post of reader reactions.