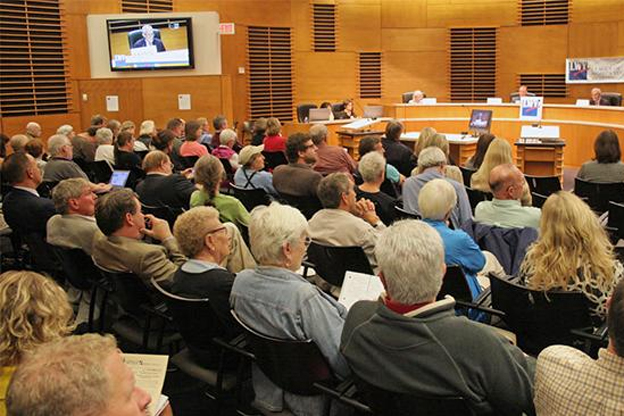 #49debate, part 2
There was a debate on Monday last, September 22nd, between incumbent DFLer Ron Erhardt and Republican challenger Dario Anselmo. I wrote about the debate in general terms earlier, a story that you can read here.
The first audience question was about transportation funding. The moderator asks the question; Dario Anselmo says we need more funding, but has no idea where it comes from, maybe from "efficiencies," and defers to people who are elected to tell us where it comes from. It was a stunning, evasive, empty answer.
Here is a fair use clip of the question and the answers from the League of Women Voters' webpage. (You can watch the whole video here.)
The bulk of funding for roads and bridges comes from the fuel tax trust fund. Anselmo's talk of "efficiencies" is nothing more than the old Republican "fraud 'n waste" dodge and weave. Anselmo has undoubtedly been told by campaign advisers never to say asgay axtay.
The question has a special history in Edina, though. Rep. Erhardt has been a champion of better transportation funding for a long time; it got him thrown out of the Republican Party in 2008 because of a vote to override Governor Pawlenty's veto of an Erhardt sponsored gax tax bill. You can understand why Anselmo wouldn't want to put his neck in the Republican gas tax noose.
Like most Republicans, Anselmo lives on the Big Rock Candy Mountain.
Rep. Erhardt does not shrink from a direct answer.
Yet, Cyndy Brucato says these two candidates are really the same.
You can also see Rosencrantz and Guildenstern in the upper right hand corner of the crowd shot at the beginning of the video.
Update: This evening, September 30th, there was a LWV forum at the Edina City Hall for candidates for the City Council. (The city posted the video here.) One of the urgent questions was, "What do we do about about the MAC and FAA's plans to implement something called RNAV that will send vastly more airport traffic over Edina?"
Well, the candidates said, We'll have to work with our representation in the Legislature and the Congress. To me, this raises the question: Who is more likely to influence the outcome of this RNAV business, incumbent Ron Erhardt, the chair of the Transportation Policy Committee, or the glad-handing lightweight on the right?
Raise your hand if you know the answer.
Further update: Republicans are genetically unable to say how to fund infrastructure. Livin' on the Big Rock Candy Mountain.
.@MikeForMN hasn't given answer on how to fund infrastructure, goes back to same talking points about partisanship.

— Ricardo Lopez (@rljourno) October 1, 2014
Thanks for your feedback. If we like what you have to say, it may appear in a future post of reader reactions.