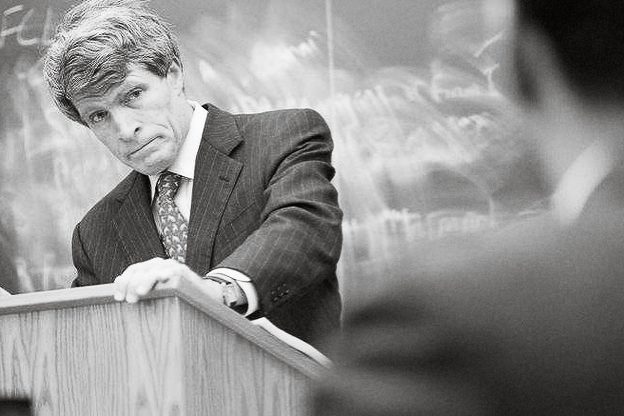 Mark Osler on Richard Painter
Mark Osler is the Robert and Marion Short Professor of Law at the University of St. Thomas. Professor Osler is a nationally-recognized expert on sentencing disparities and the effective and humane use of clemency and the presidential pardon power in criminal law. He manages a clemency clinic at St. Thomas where students and staff assist prisoners in preparing petitions for clemency. Before coming to St. Thomas, Mark taught law at Baylor University in Waco, Texas. He's still on the Board of Contributors to the opinion section of the newspaper there; he wrote an op-ed in June for the Waco paper discussing Richard Painter's candidacy for the Senate. I put some questions to Mark following up on the op-ed; here are his responses.
---
In June, you wrote an op-ed piece in the Waco (TX) Tribune-Herald about another local law professor, Richard Painter, who is, not coincidentally, running in Minnesota's August primary for the DFL nomination to fill the unexpired two years of Al Franken's term. About the first of this year, Governor Mark Dayton appointed his Lieutenant Governor, Tina Smith, to serve as an interim senator until the election. She is running in the primary too, of course.
The title of the op-ed, which I know you probably didn't write, was "Reflecting on the good guys in the sorry state of American politics." Is that a fair summary of what you wrote about Professor Painter?
Oh, how I wish they let me write the headlines! My primary point wasn't about dividing "good guys" from "bad guys" so much as arguing that we need some legislators whose positions will straddle our political divide. There is no middle right now, and worse there are painfully few people in Congress who will lead on issues that are outside of their own party's talking points. The irony, I suppose, is that the one person breaking from party orthodoxy is Donald Trump, who is stomping all over traditional Republican ideas about free trade and relations with Russia, among other issues. The weird thing is watching Republicans in Congress follow him like ducklings no matter where his policy ideas of the moment lead him. Painter has an integrity to his policy mix that Trump lacks. If you want a counterweight to the free agent Trump has become, it makes sense to choose someone who can present the same maverick appeal without the crazy, destructive side, and with a commitment to those positions on ethics and the environment that will be essential to our continued flourishing.
Is there some reason why now seems an especially propitious time to have someone with a thorough knowledge of the law of ethics and conflicts of interest pertaining to federal candidates and office holders and campaign finance and practices law sitting in the U.S. Senate? It seems to me that it is, but I'd like your observations about it, perhaps including a couple of examples.
Oh yeah — we have never needed it more. Scott Pruitt's now-completed wild ride through Washington would have been inconceivable in prior administrations. More importantly, it seems that the culture of ethics that built up in the wake of Watergate has eroded like a cliff suddenly plunging into the ocean. My students don't remember what Watergate was, but it is an era worth examining again. Ethics, and particularly the rules about conflicts of interest, undergird what trust we have in government. Painter would immediately become a leader in the Senate on the issue of ethics. Congress has a lot of generalists like Tina Smith. The few specialists – like Elizabeth Warren on consumer protection – have great influence. I would want our Senator to have great influence in one of the most important areas emerging. For one thing, modern media seeks out experts, and that provides a platform that generalists don't enjoy.
As you point out in the op-ed, Richard's views on health care – he supports a single-payer system – and his opposition to copper-nickel sulfide mining in Minnesota make him more progressive on those issues than his opponent, Tina Smith. Richard holds a number of "well-articulated," to use your term, progressive views as explained on his website. But he used to be a Republican. How can that be?
I think there are two things going on there. The first is that environmentalism used to be something embraced by some members of both parties. Richard Nixon oversaw the creation of the EPA, and my die-hard Republican grandfather was a member of the Sierra Club. The adherence to party orthodoxy on that issue and others we see today is a recent development. The other thing I suspect is that, like most of the Republicans I know and some of the Democrats, too, Painter was holding his nose and keeping quiet relative to some parts of his party's platform. Running as a Democrat allows him to speak his conscience.
This leads me to the broader question of partisanship. One of the knocks against Richard by some of my die-hard DFL pals is, in fact, "He used to be a Republican!" To which I reply, "Redemption is possible for anyone." But that's all pretty superficial, isn't it? I don't really think Richard needs redemption. But something has to happen to get us past our current state of tribal party warfare. What?
The answer to partisanship I hear most often boils down to "the other side should stop being stupid and come around and agree with me." But the solving of problems almost always requires compromise. In my own field – criminal law – we still see compromise and bi-partisan reform proposals. I work with Open Society, the ACLU, the Heritage Foundation, and the Koch brothers, and there is sometimes consensus amongst all on what needs to change. That's when we have hope to get things done, but it takes compromise and a little humility on all sides. Those two qualities are in short supply.
I have seen a contested primary or two in past cycles. But I have never witnessed anything like primary coming up. On the DFL side, the gubernatorial contest, and the races for attorney general, the 5th congressional district, and of course, the Senate are up for grabs. [I didn't even mention the free for all in the Eighth.] On the Republican side there is a contest for the nomination for governor and the 1st congressional district. The non-endorsed candidates are real contenders in all of them.
What do you think this means? Is it a reaction to the tribal party warfare I mentioned?
Part of it reflects something very good: more people want to get involved in the political process, and it is not all because of tribal party warfare. Chaos creates opportunity, and I think many good candidates have sensed that. A lot of those people don't look and sound like what we have gotten used to, and that is a good thing, too. Within those races, the dialogue has largely been engaged and vigorous while remaining civil, at least from what I have seen. A few weeks ago I was on the TPT Almanac show to talk about police shootings. The other guests were all of the DFL candidates for AG, lined up for a debate. Watching that debate from the studio (and hanging around with them in the green room), I was taken by how civil and respectful they were to one another. It's an exciting time, and this level of involvement should give us hope.
You point out in the op-ed that Minnesota likes political mavericks; we do. Paul Wellstone, Jesse Ventura, and Al Franken come to mind. And Arne Carlson does, too, a governor who was elected twice without ever receiving a convention endorsement. Is there something in the water?
Or the hotdish, maybe. But, yes, I think that an openness to political mavericks is a part of the political culture here. I did not see anything like it when I lived in Texas. To some, it might seem to conflict with the general practicality of Minnesotans, but I'm not sure that is really a conflict. After all, problems get solved when people break out of ruts, and what is more practical than solving problems? There is certainly room for that now.
Thanks for your feedback. If we like what you have to say, it may appear in a future post of reader reactions.