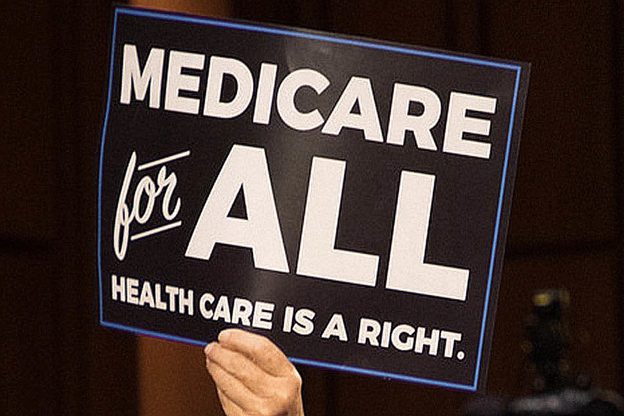 Why would I call Sen. Smith about "government rate-setting?"
You may well have seen at least one of the mildly apocalyptic commercials about "government rate-setting." The one I embedded here from YouTube is presumably being run in Georgia. But here it's the same, except for suggesting at the end that you help ring Sen. Tina Smith's (D-MN) phones off the hook.
This is from an article that provides some answers, which are unlikely to surprise anyone reading this blog.
The ads are paid for by Doctor Patient Unity, a group that was formed in June in Virginia. The group has laid down $250,000 to run the ads at TV stations and cable shops in the Twin Cities, including KARE.

In paperwork filed with KARE and other TV stations, the organization's address is listed as a post office box in Birmingham, Alabama. The treasurer is listed as Janna Rutland.

She has virtually no Internet profile, which made it difficult to find a current phone number or email address. A possible Facebook page for Rutland contains no public information.

But in FEC documents Rutland is also listed as the treasurer for the Women for Winning Political Action Committee, which works to help get conservative women elected to office. It's not to be confused with Women Winning, which seeks to get Democratic women elected.

The documents filed with Doctor Patient Unity advertising orders gives a contact phone number that rings in the Virginia office of Kyle Roberts. He's the president of Smart Media Group, a consulting firm for Republican candidates.
(KARE11)
Actually, the obvious fix to surprise billings, hospital closings, and a lot of other things is this idea called "universal single-payer." Here in the U.S. it's often going by the name "Medicare For All." Something like it has been the norm in a lot of other countries for a long time, and that's why they spend less money and get better results. And there's no reason that the U.S., if we start by getting the right-wingers out of the way, can't learn from what's worked and what hasn't and do better than any of them.
And an ever-increasing percentage of the citizenry knows that.
Comment from Mac Hall: The ads are very scary … which makes them effective. While Tina Smith is getting the focus of the ad in Minnesota, they are not just going after Democrats as they are also targeting Thom Tillis … which makes it interesting since he is getting a strong primary challenge from Garland Tucker III who is being promoted by the John Locke Foundation … the John Locke Foundation has been cited by Jason Lewis in the past. Can you connect the dots ?
Since you published this, the NY Times has a report that your followers may find informative: "Mystery Solved: Private-Equity-Backed Firms Are Behind Ad Blitz on 'Surprise Billing'"
Last comment … while there are a number of bills that have been offered, the one with the most bipartisan sponsors is H.R.3502 – Protecting People From Surprise Medical Bills Act … sponsored by MN01 Jim Hagedorn.
Thanks for your feedback. If we like what you have to say, it may appear in a future post of reader reactions.