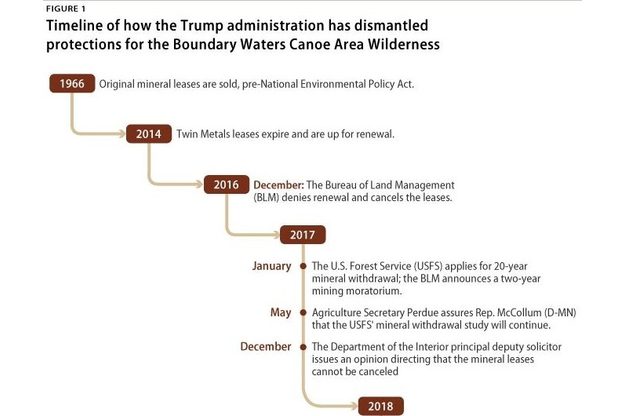 Bad court ruling, by Trump flunky, puts the BWCA at further risk
What a load of crap.
A federal district court judge has ruled in favor of the Trump administration's decision to reinstate federal mineral leases that could eventually lead to a sulfide-based copper-nickel mine near the Boundary Waters Canoe Area.
The decision, issued Monday, was not a surprise to opponents of the mine, who had expected that Judge Trevor McFadden, a recent Trump appointee, would rule against their legal claim.
McFadden is a longtime member of the conservative Federalist Society, which is dedicated to turning America's courts toward a more libertarian and pro-business direction.
(The Timberjay)
The article goes on to note that Becky Rom, of the Campaign to Save the Boundary Waters, said that this will now be taken to the D.C. Court of Appeals. It could well end up with the U.S. Supreme Court.
Rather interesting, from an article in this morning's Minneapolis Star Tribune, Minnesota regulators, specifically in the person of DNR Commissioner Sarah Strommen, want the data from a canceled federal study of the impacts of sulfide mining. Is this indicative of a major about-face on the state's regulatory enabling of exploitative, polluting multinationals? Probably not really, but worth keeping an eye on.
Finally, a topic, if you like, for that most noble of activities – lone, learned thought – is, how will the Trump Crash affect Glencore's plans for the PolyMet proposal? I haven't looked at stock prices, industrial metals prices, and so forth, yet, but I figure they've got to be pretty ugly, right now, from any would-be profiteers' perspectives.
Update: Well, will you look at how copper's tracking? Nickel, too.
Thanks for your feedback. If we like what you have to say, it may appear in a future post of reader reactions.