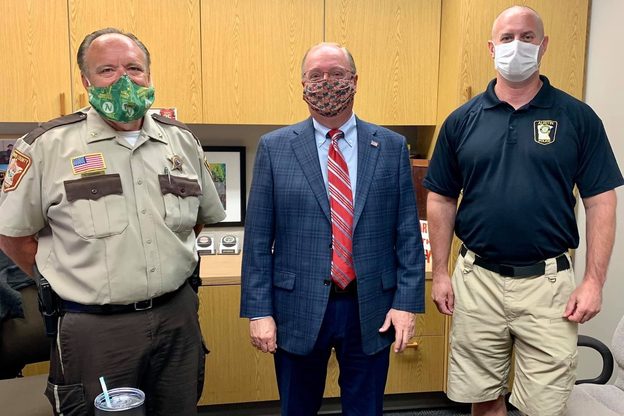 MN-01: Rep. Hagedorn's history of deranged, bigoted nonsense is not just history
Recent stuff:
In a Facebook post published on June 23, Congressman Jim Hagedorn (R-MN) used white nationalist rhetoric to condemn the Black Lives Matter movement. Hagedorn wrote that the Black Lives Matter movement is "at war with our country, our beliefs and western culture." He insisted that Americans must oppose the Black Lives Matter movement to defend the nation's "Judeo-Christian values" and "way of life." Hagedorn represents a congressional district just 50 minutes south of where a police officer murdered George Floyd in May…

Hagedorn's Facebook post is not an anomaly. He has a history of racist, sexist, and homophobic screeds going back decades. Yet, major corporations that publicly champion racial justice, equality, and inclusion – including UnitedHealth Group, U.S. Bank, Intel, and Best Buy – have donated thousands of dollars to Hagedorn's reelection campaign…

UPDATE (7/23, 12 PM): In a statement to Popular Information, United Health Group disavows Hagedorn, calls his statements "egregious and hurtful," and says it will not be contributing to him in the future:

We were unaware of these egregious and hurtful statements attributed to Rep. Hagedorn and they in no way reflect the values of our company. We regret our past contributions, and will not make any future contributions to him.
(Note: Popular Information, which has the highest possible excellence, has been paywalled in the past. That has been dropped, at least for some stuff, during the COVID-19 pandemic. I'm pretty sure the linked item is accessible to anyone.)
So, for whatever reasons, one corporation showed a touch of class and integrity, so far.
Rep. Hagedorn is facing the same choice that every GOP elected in an at-all-competitive race is facing. Go full-on Trumper, or try to distance himself? Like most, and presumably encouraged by his wife among others, he's doing the former.
I saw a recent poll that showed Hagedorn falling behind his challenger, Dan Feehan, who he barely beat in 2018, though by well within the margin of error. Expect the Hagedorn campaign to maximize the bottom-feeding.
Update: From today's PI newsletter, Intel asked for its money back, from the Hagedorn campaign.
Comment from Mac Hall: Here's my prediction … Hagedorn will declare himself the winner on Election Night … 'cause he can cite a poll conducted by Harper Polling, showing a Hagedorn landslide, 49 percent to 33 percent with 18 percent of likely voters undecided. Of course that internal poll was taken in March … but the real question may be when will we know the results of this contest ? With all the mail-in ballots, that could add some time (did you know that it's been over three weeks and New York still hasn't decided if Carolyn Maloney won her primary?)
With the entire state legislature up this year, the MNGOP will be having all their allies pushing voters to defend "our Judeo-Christian values and our American way of life."
I am down here in Jeremy Munson's district and they are taking no chances of him being defeated in a primary challenge … we have been called twice and have received at least seven mailings on how he is "protecting our gun rights" and his pro-life credentials … there are even MediaVine ads running to "Thank" him for standing up to Walz.
Hagedorn will do the same … (and for spice, the RNC will no doubt run more on "Feehan's boss George Soros")
My advice for the Feehan folks would be to question what Hagedorn has done for the district and has he addressed the issues that need to be discussed. It's not a surprise that he has been a solid no vote, but instead that he hasn't really offered any legislation … the few bills that he has offered are very narrow – garnering few cosponsors … and he has yet to offer any amendments to any bills — that is crazy, Pete Stauber has figured out how the system works.
It's all gonna depend on turnout … will apathy win again ?
Thanks for your feedback. If we like what you have to say, it may appear in a future post of reader reactions.