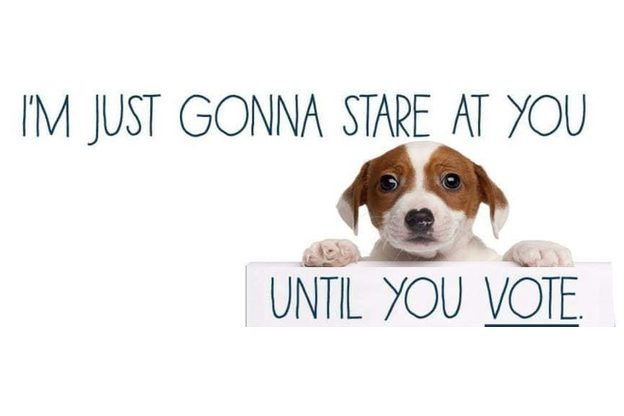 Don't panic over court ballots deadline decision
I refer to the asshole call by an 8th Circuit panel to screw with Minnesota's planned extension for accepting mail-in ballots.
First, panic is a bad trip, under any circumstances.
Second, though I have yet to see news of an appeal, I would think that one would stand a decent chance of succeeding. The ruling we have is an open affront to very recent, explicit, SCOTUS precedent, regarding North Carolina and Pennsylvania.
Third, based on data from other states, it's Democrats who have shown themselves highly motivated to get their ballots in, promptly. It makes sense that it would be older people, and therefore still more likely Trump, etc., voters, who would have it slip their minds for a while. My strong suspicion is that actually blocking "late" ballots from being counted will be pretty much a wash, electorally, with maybe a small shift to Republicans. A point at most.
In any case, there's no reason to take seriously any pandering corporate media crap about this being a "disaster for Democrats." Indications certainly are that we have plenty of cushion. (Scroll down a little, at the linked article, for Minnesota. I like NBC's approach because they don't try to "correct" right-wing "polling," or anything like that. They just don't use it.) That's despite Minnesota c. media's tendency to pimp a couple of outlier polls, commissioned by billionaire Republican-owned outlets, as the be-all and end-all. (Remember Wardlow + 8, from the Strib, in 2018?) Also bear in mind that polling averages tend to hit a little low on actual margins of victory, in wave elections.
The limited data that we have – namely, Wisconsin's Supreme Court election, earlier this year – indicates that when it comes to traditional, in-person, Election Day voting, the pandemic will hurt right-wing turnout, more. I'm not suggesting that that is ethically something to feel good about. But it's there.
All that said, certainly do what you have to do, as everyone is recommending, to make sure your vote counts. And, if you can, help others do the same.
I've looked at this in different ways, trying to be sure I'm not indulging in motivated reasoning, here. And from our progressive perspective the bad thing is that it could cost us some very close pickup opportunities, in red territory, for the state legislature. Every seat counts, in trying to make real, positive change happen, there. That's what has me angry and disgusted enough about this that I slept little last night. Which is presumably why my prose here isn't very focused and efficient. Sorry about that.
Comment from Mac Hall: Hmmm … looks like the McConnell Court is tipping the election as the three judge panel was made up of a Bush appointee, Obama appointee … and a Trump appointee who the ABA Standing Committee on the Federal Judiciary had given Steven Grasz a "not qualified" rating. The ABA cited concerns that Grasz could not set aside a "passionately held social agenda" to respect precedent.
In my county, Blue Earth, as of couple of days ago, only 75% of the absentee ballots have been returned … 75% may be a good number until you realize that many of those voters are like me, exclusively mail-in …. we do not have in-person precincts to go into to cast our ballot … so it's either drive to the county courthouse to deliver your ballot or trust the post office. Since these mail-in only communities are in rural areas, and predominantly Trump country, this may not be good news for Jim Hagedorn.
By the way, does anyone know if there is precedent for this "received by" date for military and overseas ballots … anyone know how this was handled in the Coleman-Franken contest. I thought I saw something that the military would be allowed to fax their ballots in(?) House Republicans were pushing legislation to ensure that overseas ballots got counted … of course that was when they thought Trump would be getting strong support from the military.
Thanks for your feedback. If we like what you have to say, it may appear in a future post of reader reactions.