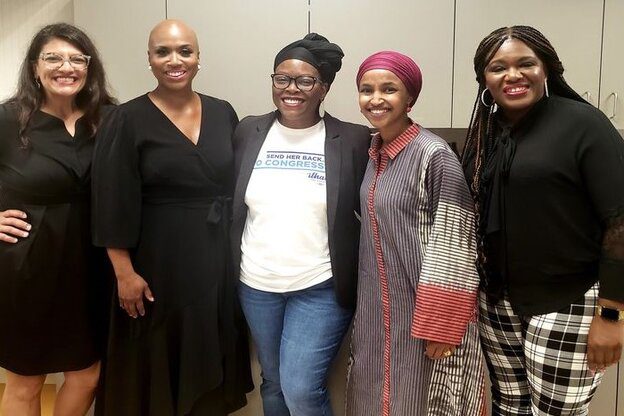 MN-05: What the heck happened?
These are just my thoughts as to why Rep. Ilhan Omar won her primary election yesterday by a much smaller margin than has been the case in the past.
Don Samuels based his campaign on a pretty straightforward, though not the most common, approach. It basically went "I agree with Ilhan about almost everything. But the riot was her fault. And she's 'defund the police.' And 'divisive.'" "Divisive" of course being the oft-used term for those who tell it like it is, these days. Which I'm sure Ilhan isn't about to stop doing, for the sake of easier primaries or any other reason. We will have to put up with more corporate media crap than ever, about how even faintly bringing up anything related to police reform is Doom for Democrats. But we're all used to that.
Meanwhile, from what I saw Rep. Omar barely campaigned until the final days before the election. I suppose she figured she'd coast again, in any case, especially against a borderline "perennial candidate" like Don Samuels. That's what I thought would happen, anyway, and I know it's what a lot of other progressives thought as well. Perhaps she didn't go with costly, reliable internal polling that might have tipped her off that this one could be a lot tighter.
Turnout was rather wretched. About 29.5% of registered voters, including Republican, based on the Secretary of State website results page. I think maybe I do get the thought process, there. June/July/August in Minnesota goes by (it seems) in about the time that it takes to blend a margarita, and who wants to spend any of it going to vote? Especially when its heartbreaking end is in sight, and you're looking to milk every drop of the glorious pleasures of the greatest of seasons. Of course Ilhan will win big without my vote, she's always won big. Now, about that margarita…
Actually, looking again at the results page, the negligible turnout for the GOP race makes you wonder whether crossover voting was a bigger factor than it has been. Eventually we'll have the info to get a better handle on that.
In future primaries Rep. Omar will probably have to campaign more and raise more money. I don't like it, either, but there it is. After this she'll likely be targeted harder by national groups, both right-wing and "centrist." Because those ultra-entitled old assholes are terrified of the likes of Ilhan Omar.
Comment from Mike: AIPAC, The American Israel Public Affairs Committee, dropped in millions of dollars of ads attacking Omar in 2020. She crushed by 20 points.
Omar was lucky this time. AIPAC basically sat out this race in 2022. If they had dropped in millions for Samuels he would have certainly won. As it was a local PAC dropped in money attacking Omar over the "defund the police meme." And it was almost enough to knock her out.
AIPAC is funded by a hand full of right wing billionaires who use it to attack anybody who isn't massively pro-Israel in particular, and Democrats in general.
They knocked out Donna Edwards in MD-04 (The Guardian).
And Andy Levin in MI-11 (The Intercept).
Their millions could not defeat Rashida Tlaib in MI-12 (Middle East Monitor).
No doubt AIPAC won't miss this opportunity again and will drop millions of dark money against Omar in 2024. She had better up her game (Jewish Insider).
Thanks for your feedback. If we like what you have to say, it may appear in a future post of reader reactions.