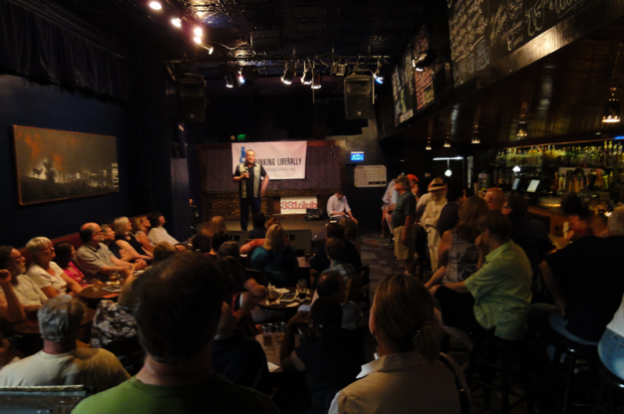 Keith Ellison speaks out on photo voter ID
Congressman Ellison has some strong views about what is really afoot in the efforts around the country to adopt photo voter ID requirements, and he doesn't like it. He explained why when he came to Drinking Liberally on Thursday July 5, 2012.
Keith Ellison visits Drinking Liberally and talks about photo voter ID from LEFT MN on Vimeo.
According to a recent AP story:
During sparsely attended primaries this year in Georgia, Indiana and Tennessee, the states implementing the toughest laws, hundreds more ballots were blocked. [Ellison mentions both Indiana and Tennessee in his remarks on the video.]

The numbers suggest that the legitimate votes rejected by the laws are far more numerous than are the cases of fraud that advocates of the rules say they are trying to prevent. [now, there's an understatement] Thousands more votes could be in jeopardy for this November, when more states with larger populations are looking to have similar rules in place.

More than two dozen states have some form of ID requirement, and 11 of those passed new rules over the past two years largely at the urging of Republicans who say they want to prevent fraud.
But as the congressman says in the video, it isn't about fraud: it's about power.
Mike Turzai, the Republican leader of the Pennsylvania House of Representatives bragged that photo voter ID would "allow" Mitt Romney to win the state in the fall.
The photo voter ID amendment was the subject of our very first LeftMN Radio Hour.
Thanks for your feedback. If we like what you have to say, it may appear in a future post of reader reactions.