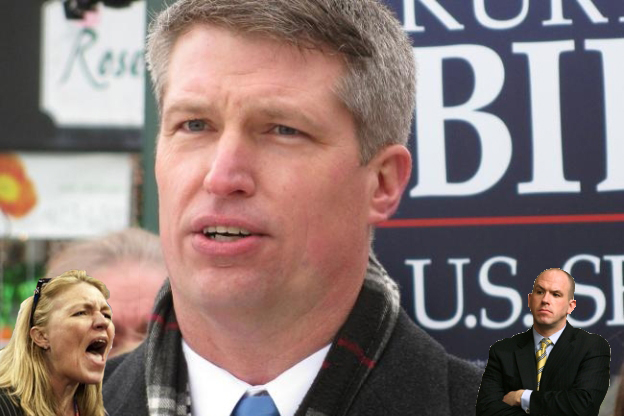 Out of favor with both Marianne and Mikey
Kurt Bills, the libertarian darling, has made some unpopular moves of late.
Bills was endorsed by Ron Paul; Bills returned the favor and was endorsed for the U.S. Senate by the "Liberty" Republicans, and he was elected a national delegate for Paul to the RNC.
But last week, on Thursday, Bills did an about face and endorsed Mitt Romney, just in the nick of time to attend a tony fundraiser for Romney at the Lafayette Club. Kurt's timing is exquisite.
Bills was a no-show at the Republican's national convention, apparently saying that the Fair was a better bet for him, but also saving him from having to face the delegation, including the libertarians' Boudica, Marianne Stebbins. (The delegation voted 33 votes for Paul, 6 for Romeny, and 1 for Santorum.)
Now Bills says that he'll be returning to the high school classroom in Rosemount next Tuesday, a surprising move, to say the least.
Michael Brodkorb is not only not impressed, he's apoplectic. Proving that he can still find the dramatic font attributes buttons on his blog editor, Brodkorb says this:
Republicans who endorsed Bills' earlier this year should have factored Bills' ability to campaign full-time into their decision on whom to endorse – Bills should have done the same.
This act of towel throwing by Bills obviously harms his chances of winning [cortle] — well, it does, doesn't it? — but it will also cost down-ticket candidates tens of votes.
Thanks for your feedback. If we like what you have to say, it may appear in a future post of reader reactions.