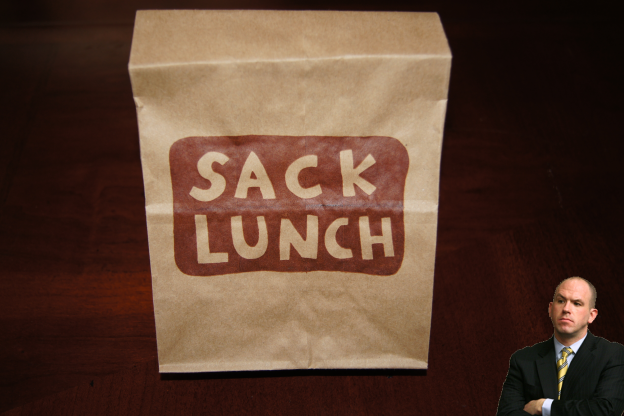 The Weekly Wrap 8/19
♣ What goes on in Room 208? That's the question that Shawn Towle tries to get to the bottom of in this video, courtesy of The Uptake:
The short story; Senate Republicans are coordinating, to a degree, re-election efforts out of this office, Room 208, which is against the law. It's not against the law to do these things in room 208 specifically, rather, it's against the law to do any campaigning on the taxpayers dime, in this case, the taxpayers office space and one presumes, stationary.
The office space in question, Room 208, is Amy Koch's old office when she was Majority leader, but now has this rather ominous placard outside: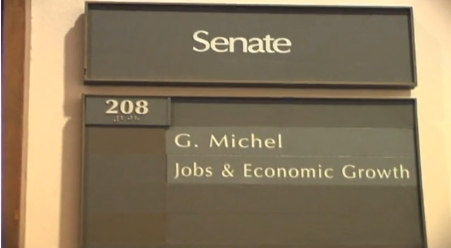 When there is a Minnesota Senate ethics scandal, somehow, the Deputy always seems to find himself right in the center of it.
♣ I agree with The Big E, Representative Kerry Gauthier should resign.
The inevitable question that follows is who runs for his seat? It's a heavily DFL district in Duluth, but whoever runs would need the name rec to be able to pull off a write in bid since it's too late to get on the ballot.
Who then, in the Duluth area, has name rec and is looking for something to do right now? Ideally this person would also have campaign infrastructure in place from a recent run; local contacts, money in the bank, lawn signs, email lists.
Alright, if you haven't figured out what I'm getting at yet…
Kerry Gauthier should resign and Jeff Anderson or Tarryl Clark should run for the seat.
Problem solved, I'll take my victory lap now.
♣ Terra Cole, who lost the 59B primary to Raymond Dehn by a mere 19 votes, might ask for a recount. Or she night not. We'll wait and see I guess.
As The Big E points out in the post, even though 19 votes seems like nothing, in percentage terms, it would take an unprecedented amount of error for this outcome to change.
♣ Federal Judge Donovan Frank has dismissed a lawsuit challenging Minnesota's same day voter registration.
The plaintiffs have already said they will appeal, which is no surprise. The basic argument boils down to, the state doesn't verify voters eligibility good enough when they register to vote on election day. And because of this vote dilution occurs.
What they are saying is it's the states job to make sure that everyone who votes is eligible to do so, they are advocating for a big government solution to a problem, rampant voter fraud, that doesn't exist.
What the judge points out is that the state makes it the voters responsibility to ensure that they are eligible, under the threat of a felony conviction if they vote when they are not eligible.
To summarize, conservatives, who rail against big government and promote personal responsibility for things like health care, in this instance, are advancing the argument that personal responsibility is not enough and instead we need a big government solution, a solution to a problem that doesn't exist.
But this isn't at all about partisan politics or anything like that, it's totally about Voter Fraud!!1!
♣ The Minnesota Campaign Finance and Public Disclosure Board issued a ruling exempting an individual by the name of John Doe from having his name disclosed in ensuing campaign finance reports. Inexplicably though, they did not redact Mr. Doe's name from their ruling, thus outing him.
Let's hope that Mr. Doe lands on his feet.
♣ Last week Minnpost had a great series of articles about different aspects of voting and voting rights produced by the Carnegie-Knight News21 program.
On Monday they put up an article about rampant voter fraud and how there is no such thing as rampant voter fraud. The whole series is worth checking out though.
♣ Michael Brodkorb, a name that some of you might be familiar with, has started his own blog, well, a different blog, that will supposedly be totally not the same as his old blog which went by and still goes by the name Minnesota Democrats Exposed, that of the screaming all-caps headlines. The new blogs handle is politics.mn.
I appreciate the use of the .mn domain, of which we are also users. Let us be the tip than, the very tip, of the iceberg of .mn domains that Minnesota web-surfers begin to run aground on.
♣ Now that the Minnesota Vikings got their new stadium, the team is urging fans to help out those legislators that voted in favor. What exactly are they doing to urge their fans?
[Lester Bagley] said e-mail messages of support for the politicians will go out to "as many Vikings fans as possible," both now and before the general election on Nov. 6. These are independent political expenditures by the team on behalf of the candidates, sent to constituents known to be Vikings fans.
Ohh, email blasts! Wow, if only legislators knew they would receive such unequivocal support more of them might have been on board!
Yea, until Adrian Peterson is knocking on suburban doors this is a non-story.
♣ If you don't know who Meg Tuthill is, she's the Minneapolis city councilor who, upon winning election to the Minneapolis City council decided that patio seating in Uptown was out of control and needed to be reined in.
That idea was meet with an immediate and uniform response of, "are you freaking kidding me?"
So with that tiny little bit of context out of the way, here then, is Meg Tuthill, on someone's voicemail, being the very classy woman that Meg Tuthill is.
♣ This opinion piece from the Stillwater Gazette needs to be accompanied by the proper photograph, found below.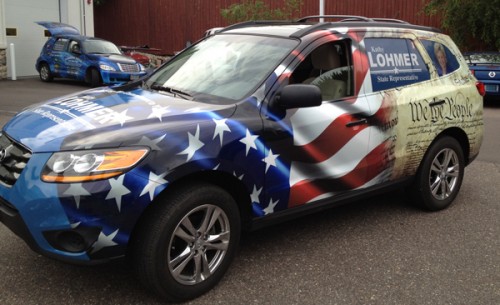 As the author of the opinion piece notes:
The irony is that it is a foreign vehicle — a Hyundai.
How much does it cost to wrap a car as seen in the above photo is a question that a reasonable reader might ask. This much, is the answer, courtesy of one Kathy Lohmer's campaign expense report: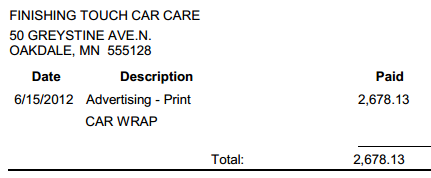 I'll let the author, one Lee Salisbury from Stillwater, have the last word:
Yes, it takes someone with unmitigated gall to brandish the American flag and U.S. Constitution on a foreign vehicle. It takes Kathy Lohmer.
Thanks for your feedback. If we like what you have to say, it may appear in a future post of reader reactions.