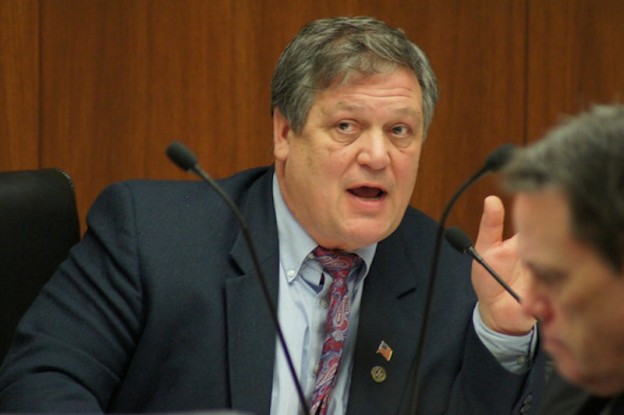 GOP Rep. Ernie Leidiger owes over $144,000 in unpaid taxes
Rep. Ernie Leidiger (R – Mayer) owes over $144,000 in overdue state and federal taxes and has three separate tax liens filed against him by the Minnesota Department of Revenue (DOR) and the Internal Revenue Service (IRS.) A tax lien is a claim against the property owned by a person after they've been billed for taxes and failed to pay.
The most recent tax lien, filed by the IRS August 8th, 2012, is $70,175 for unpaid taxes going back to September 2009. This follows two state tax liens filed by the DOR, one filed May 24, 2012 for $14,693 and another filed April 11, 2011 for $59,328. Rep. Leidiger has tax liens totaling $144,196 for unpaid and overdue taxes going back nearly three years, over a year before he won election to the Minnesota House in November 2010. The lien documents are included at the bottom of this story.
The state tax liens are particularly troubling. The unpaid state taxes are "Sales & Use Tax," which means failure to pay the state the sales and use taxes collected from customers, and "Withholding Tax," which means failure to pay the state the taxes withheld from employee's paychecks.
These unpaid tax bills come on top of other unpaid obligations for Leidiger's businesses. Sean Olsen of Brick City Blog has been covering Leidiger's business difficulties in detail. Olsen reported in August that Leidiger's businesses had over $40,000 in unpaid legal judgements. In addition, Olsen reported that a Leidiger business, Jelco Parts, received a Small Business Administration (SBA) Patriot Express loan for $500,000 in July 2009.
SBA Patriot Express Loans are available to veterans who own small businesses, and are 90% federally guaranteed. This means that if Jelco Parts defaults on the loan, taxpayers will pay for 90% of the outstanding loan amount. Just months after receiving the $500,000 federally guaranteed loan, Leidiger started falling behind on his federal and state taxes.
It appears that taxpayers will be on the hook for a lot of money, based on the tax liens and other recent events. Jelco was evicted from its Brooklyn Park offices in August 2010. Then, Olsen reported on September 6th that Jelco Parts had been administratively dissolved by the State of Minnesota for failure to pay its registration fee.
Leidiger had an eventful first term. He invited preacher of hate Bradlee Dean to lead the House in prayer on a day they were scheduled to take up the anti-marriage amendment. He tried to pay a speeding ticket out of campaign funds, which resulted in $800 in fines. And he found the time to go to a nursing home to disrupt an anti-photo ID amendment session offered by the League of Women Voters.
Leidiger's problems are a perfect distillation of the last two years of Republican rule in the Minnesota Legislature. The Republican Party of Minnesota, deep in debt, was nearly evicted from their headquarters. At least they avoided eviction at the last moment, unlike Leidiger. Leidiger bashed the federal stimulus, then took a half-million dollar loan under a program paid in part by stimulus funds. The GOP professes to be simply concerned about perserving traditional marriage, but Leidiger's invitation of track-suit preacher of hate Bradlee Dean to lead the prayer in the Minnesota House revealed their true agenda. Leidiger is the poster child for the Minnesota Republican party; hypocritical, deep in debt, and championing individual responsibility while failing to practice it.
LeftMN writer Steve Timmer also contributed to this story.
Thanks for your feedback. If we like what you have to say, it may appear in a future post of reader reactions.