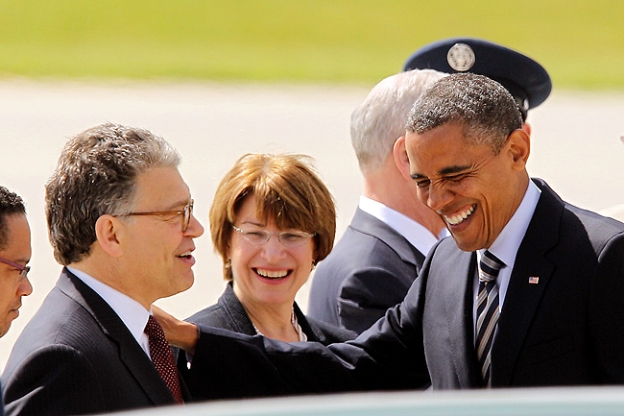 Obama leads Romney in Minnesota says two new polls
Two polls have been released this week pertaining to the Presidential election between Barack Obama and Mitt Romney in the state of Minnesota. One of the polls is not really new, but I haven't covered it yet, so it's new to these electronic pages.
The other poll just came out last night, so that one is actually new. That makes it one new poll and one slightly stale poll, but that phrasing doesn't quite sound as good in the headline.
The slightly stale poll first.
Mason-Dixon (10/28, 9/23 in parenthesis):
Barack Obama (D-inc) 47 (48)
Mitt Romney (R) 44 (40)
Undecided 7 (7)
(MoE: ±3.5%)
This poll caused quite the stir in the Minnesota twittersphere upon its released. "Is Minnesota a swing state?" was the question on many peoples minds.
One thing thats important to note is the trend lines of the poll. Yes, Obama's lead went from eight to three points, but he didn't really lose any support himself. Instead, Mitt Romney added four points.
Remember that trend, because, spoiler alert, it may be recurring.
Yesterday evening came the newer of the two polls.
SurveyUSA (10/30, 10/15 in parenthesis, 9/10 in brackets):
Barack Obama (D-inc) 50 (50) [50]
Mitt Romney (R) 43 (40) [40]
Other 3 (4) [5]
Undecided 4 (6) [5]
(MoE: ±4.2%)
This poll shows pretty much the same thing as the slightly stale poll did. Obama is in the same place as he has been since September, while Mitt Romney has added a few points.
A poll showing Barack Obama winning by seven points does not generate the "Is Minnesota a swing state?" buzz in the same way that a poll showing Barack Obama winning by only three does, but the two polls are not very far from each other.
It's clear the the race in Minnesota has tightened, but because there's some tightening doesn't necessarily mean that Minnesota is now in play.
Thanks for your feedback. If we like what you have to say, it may appear in a future post of reader reactions.