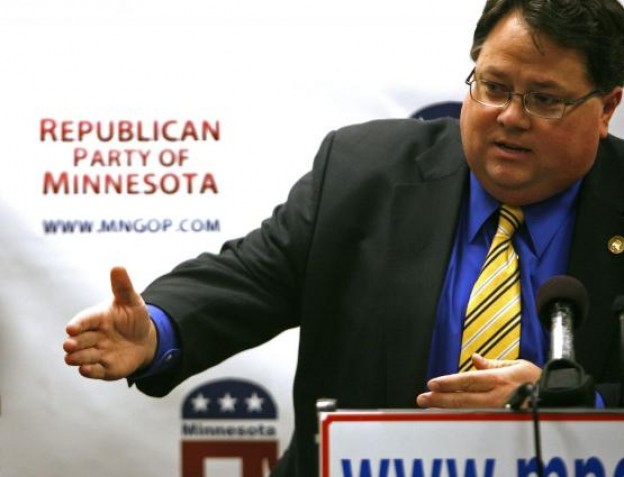 Office of Administrative Hearings denies Sutton, et. al
Over the summer, as you may recall, the Minnesota Campaign Finance and Public Disclosure Board – the agency charged with enforcing Minnesota's campaign finance disclosure laws – found that the state Republican Party violated campaign laws in the way it handled the 2010 gubernatorial recount. Civil penalties were meted out; prosecution for the misdemeanor offenses was declined.
But there has always been another shoe waiting to drop on this one. You see, while the CFPDB handles the reporting and disclosure violations, most campaign law violations are handled at the Office of Administrative Hearings, where three-judge panels pass on complaints of different sections of Minnesota's election laws. These judges decide whether to assess civil penalties and whether to refer matters to an "appropriate county attorney" for prosecution of misdeeds that might be felonies. Minn. Stat. 211B.35, subd. 2(e).
After the massive revelation of the CFPDB's record in its investigation – thirteen depositions and hundreds of pages of records and emails – the original Complainant, Common Cause Minnesota, filed a complaint with the OAH. The new complaint was backed up by the record from the CFPDB's investigation, and alleged that the formation of a separate corporation to pay the RPM's bills was illegal.
The respondents, still stinging — reeling, really — from over $30,000 in penalties from the first go-around, didn't like this one bit. Everyone lawyered up and immediately brought motions to dismiss. Some of the arguments were based on highly technical readings of the statutes and some were sputtering indignation at being called to task once again (even though these are different violations).
But the one that took the most brass to make was the one where the RPM and its operatives claimed that the complaint was untimely. Having spent over a year hiding their actions in setting up the shadowy corporation from even the RPM's own executive committee, party members, activists, and the public, they now claimed that Common Cause should have known that the shenanigans were going on and filed the complaint sooner.
Well, last week a three judge panel from the OAH told the RPM and the other respondents, including former Chair Tony Sutton, that the complaint is going forward. The acts complained of, by and on behalf of the RPM, did implicate Minnesota's ban on corporate contributions; the matter was not moot merely because the CFPDB had spanked them, and the fact that the group managed to keep their dirty dealings secret for over a year didn't mean they got away with it.
The matter now moves on to a consideration on the merits.
Thanks for your feedback. If we like what you have to say, it may appear in a future post of reader reactions.