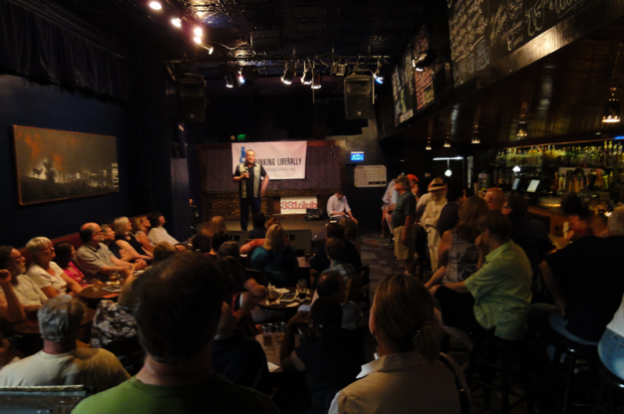 Two pre-election Drinking Liberally events
There are two Thursdays left before Election Day, and we're going to make good use of both of them
On Thursday this week, that's October 25th, we'll be at the 331 Club for a GOTV program. A representative of Minnesotans United for all Families will be there, looking for volunteers and urging people to get out and VOTE NO. There'll be other campaigns, too, including Obama for America. I'll be there to talk about registering to vote on Election Day, which you can still do, and will be able to continue to do if we defeat the poisonous-to-democracy voter ID amendment. Over a half a million voters registered, or changed their registration on election day, in the last presidential election, so a lot of us need and use it.
Then on Thursday, November 1st, we have our big pre-election show at the 331 Club. Radio and television personality Nancy Nelson, who currently hosts a drive-time show on AM950 — that's the Progressive Voice of Minnesota — will be the emcee for a show featuring two persons who have been popular speakers at Drinking Liberally before: Professor Mark Osler from the University of St. Thomas Law School, who will talk about his opposition to the marriage amendment, and Rep. Keith Ellison (the photo is of Rep. Ellison from his last appearance at DL), who will talk about whatever he wants to talk about, which will undoubtedly include his unalterable opposition to the voter ID amendment.
You can find a map to the 331 Club here. We start to get together at 6PM on Thursdays, and our programs start at 7PM. These are two you won't want to miss.
Thanks for your feedback. If we like what you have to say, it may appear in a future post of reader reactions.