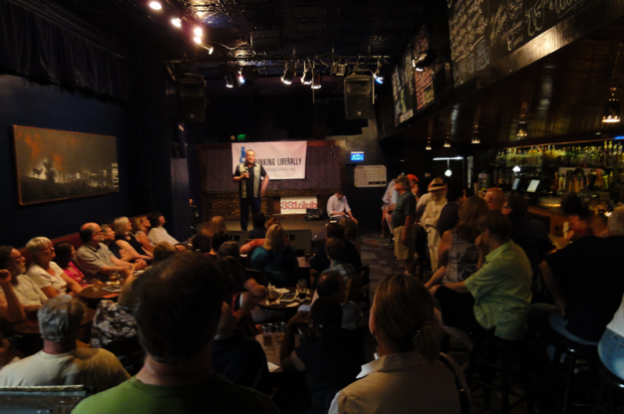 Drinking Liberally's really big show!
Thursday evening, November 1st
Update: We are working on streaming this event live right here at LeftMN. Look for more details later.
We have our big pre-election show at the 331 Club this Thursday night. The show starts at 7 PM, but DLers start to get together at 6 PM for a libation, a bite to eat and some pre-program conversation. Radio and television personality Nancy Nelson, who currently hosts a drive-time show on AM950 — that's the Progressive Voice of Minnesota — will be the emcee for a show featuring two persons who have been popular speakers at Drinking Liberally before: Professor Mark Osler from the University of St. Thomas Law School, who will talk about his opposition to the marriage amendment, and Rep. Keith Ellison (the photo is of Rep. Ellison from his last appearance at DL), who will talk about whatever he wants to talk about, which will undoubtedly include his unalterable opposition to the voter ID amendment.
You can find a map to the 331 Club here. We start to get together at 6 PM on every Thursday, and our programs start at 7 PM. This one you won't want to miss.
Thanks for your feedback. If we like what you have to say, it may appear in a future post of reader reactions.