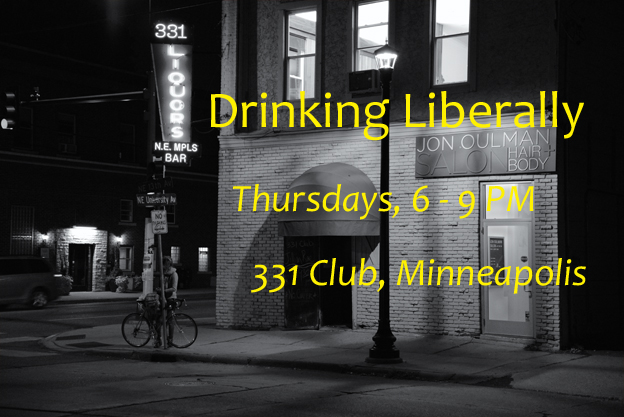 Presidential debates (and more) at Drinking Liberally!
[Be sure to note the venue and dates and times for these events. This is not business as usual, people.]
Update: There will also be a Drinking Liberally meeting for the vice presidential debate on October 11th (we'll play trivia that night). It will also be at the Amsterdam Bar and Hall, so we can watch the teevee. AND, there will be an election night party at the Amsterdam as well. More information on these events will be forthcoming.
I also want to mention that there will be a pre-election event at the 331 Club, Drinking Liberally's usual haunt, on Thursday, November 1st. Keith Ellison will be a speaker, just as he was on election eve two years ago; there will probably be an additional guest or two, and Nancy Nelson from AM950 radio (the radio home of the LeftMN Radio Hour) will be our emcee.
There are three presidential debates scheduled:
Wednesday, October 3rd (Javier Morillo Alecia will be on hand to warm up the crowd)
Tuesday, October 16th
Monday, October 22nd (St. Paul's Mayor Chris Coleman will speak before the debate)
We'll hold a special Drinking Liberally for each of them, in lieu of our regular weekly meeting. They will be held at the Amsterdam Bar and Hall in St. Paul, an eating and drinking establishment that is also owned by the proprietors of the 331 Club, Jon and Jarret Oulman. The Amsterdam has a big screen TV, which the 331 does not. Plus it will give Drinking Liberally a chance to introduce itself to some new people, too.
I hope the 331 Club regulars at Drinking Liberally will make it across the river and make some new friends.
The debates are scheduled to start at eight o'clock PM, Central Time; we'll start to get together at seven each evening, and there will be some warm-up entertainment before each debate.
This promises to be a lot of fun; we hope to see you there.
Thanks for your feedback. If we like what you have to say, it may appear in a future post of reader reactions.