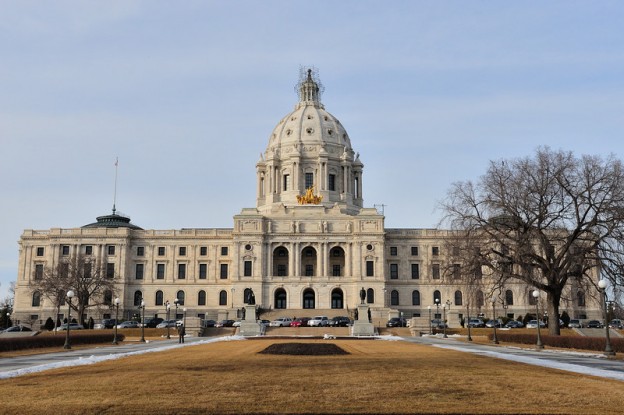 The Weekly Wrap 1-19
♣ This week, Stillwater journalist, muckraker and music lover Karl Bremer passed away after a long battle with pancreatic cancer. Karl's work was always deep and well-researched, and his coverage of the Boondoggle Bridge and Michele Bachmann was top notch. He'll be missed by many. Our condolences to his family and friends.
♣ In news that would certainly have entertained Karl, Michele Bachmann's disgruntled and unpaid staffer Peter Waldron has filed a Federal Elections Commission complaint alleging her presidential campaign violated campaign finance laws. Kent Sorenson, an Iowa State Senator, was Bachmann's Iowa campaign co-chair up until the last week when he jumped ship to back Ron Paul. But while he was working for the Bachmann campaign he was being paid under the table in violation of Iowa legislative rules, according to Waldron. Also, Waldron alleges that presidential campaign consultant Guy Short was illegally paid by MichelePAC for work he did for the presidential campaign.
Waldron earlier made a national sensation by alleging that debate guru Brett O'Donnell (who previously worked with John McCain, Sarah Palin, and briefly worked with the Romney camp) was a Rasputin-like character who dominated the Bachmann campaign, going so far as to prohibit Michele and Marcus Bachmann from sleeping in the same bed.
Now, all of the "why has Michele been so quiet?" questions are answered. She'd simply be peppered with questions about her own problems. Bachmann continues her monastic vow of media silence.
♣ It was a big week under the dome, especially if you are a gigantic electric chandelier. The Capitol rotunda "electrolier" was raised to its normal position and lit in a Thursday ceremony. It brought out all the Capitol denizens, proving beyond a shadow of a doubt that there are a lot of history and lamp geeks up there. You can see some pictures of the chandelier before it was raised here, and a description of the ceremony here.
♣ Otherwise, it was rather sedate at the Capitol. The legislature is getting off to a slow start, hampered by a lack of a firm budget forecast and no Governor's budget to work from. In the coming weeks, both of these roadblocks will be removed and things will start moving with more dispatch.
On Tuesday next week, the Governor's budget will be unveiled. Unlike his first budget in 2011, which served as an opening offer in a tough negotiation with Republicans, this one will probably look at lot more like what the final budget will be. It will also provide a clear signal about what types of revenue and tax reforms to expect this session.
The January budget update from Minnesota Management and Budget was 3.9% over the forecasted revenue, but significant uncertainty remains. At a legislative hearing, MMB commissioner Tom Hansen wasn't sure that the resolution of the "fiscal speed bump" could be factored into the all-important February budget forecast.
♣ Health exchange legislation passed out of the Senate State and Local Government committee on a party line 7-5 vote. Despite the initial bipartisan press conference announcing the legislation, there continues to be sharp partisan divisions as this bill moves on a fast track to approval. The federal government has set a March 31st deadline for the legislation, but the Passover/Easter break means that the real deadline is March 24.
♣ Other deadlines were announced by Speaker Paul Thissen on Friday, the committee deadlines for this legislative session. This is some pretty inside baseball stuff on the one hand, but on the other hand it gives a preview of the rhythm of the session and what that might mean for marriage equality and other non-budget bills. There are three committee deadlines. First, a bill must get a favorable vote in the chamber it originated in by March 15. Second, a companion bill must get a favorable vote in a committee in the other chamber by March 22. Third, appropriations and budget bills must get a favorable committee vote by April 19. Expect the legislature to adjourn in early to mid-May, though nothing has been announced yet.
These deadlines are interesting for two reasons. First, they represent a return to past practice after the Republicans mucked them up last time. In 2011, Republicans made the third deadline for budget bills the earliest deadline, hoping to get a budget passed early to put pressure on the Dayton administration. We all know how that worked out – there were months of acrimonious internal arguments in the Republican caucus, a "cone of silence," and eventually a shutdown. I'll guarantee one thing – there will be not shutdown this time, and the Legislature will adjourn on time.
Second, this gives you a sense of when a marriage equality bill might be taken up by the Legislature. It would have to get a favorable vote in a committee by mid-March in order to be alive this session. Also, this has to happen before the budget bills are finished in committee. It's not possible to wait until after the budget is finished to start. My guess is that bills get introduced in late February – early March, get through one committee on each side, and then sit until after the April 19 committee deadline for finishing the budget bills. Then there will be a lull in the budget process as the Governor and leaders reconcile the budget bills. That's when a marriage equality bill could move. While the rules committee could always make an exception (see generally the Vikings stadium,) politically, the DFL would be loathe to do so since Republicans would howl about it.
♣ Saturday was Gun Appreciation Day in Minnesota and everywhere. Heck, every day is Gun Appreciation Day in America. But I digress. The first gun control bill of the session was dropped in the hopper by Sen. Barb Goodwin (DFL-Columbia Heights,) who filed a bill to require that convicted felons receive approval from the state Board of Pardons to restore their right to own firearms after they served their sentence. Sen. Jeff Hayden (DFL-Minneapolis,) characterized this as the first of many potential gun bills that might come up this session at a Friday press conference.
Interestingly, a pro-gun message board published an email exchange between Senate Majority Leader Tom Bakk and an unnamed constituent in which Bakk appears to be cool to new gun legislation and favorable to the NRA's concerns. Its authenticity is impossible to ascertain, but it's an interesting read.
♣ Lastly, Rep. Erik Paulsen continued to burnish his crazy conservative credentials by joining 178 other Republicans in voting against a bill to provide aid to the victims of Hurricane Sandy. I'll let our LeftMN Radio Hour guest from last week, Carrie Lucking, have the last word on this:
"Congressman Paulsen joined the extremists in the Republican Party and played politics with Americans' lives," Lucking said. "We expect our public leaders to step up and do the right thing in times of crisis. Unfortunately, Rep. Paulsen was more concerned with his own political ambitions."
Whether those ambitions include a run against Al Franken in 2014 is still unclear. Paulson continues to play coy on that front.
Thanks for your feedback. If we like what you have to say, it may appear in a future post of reader reactions.