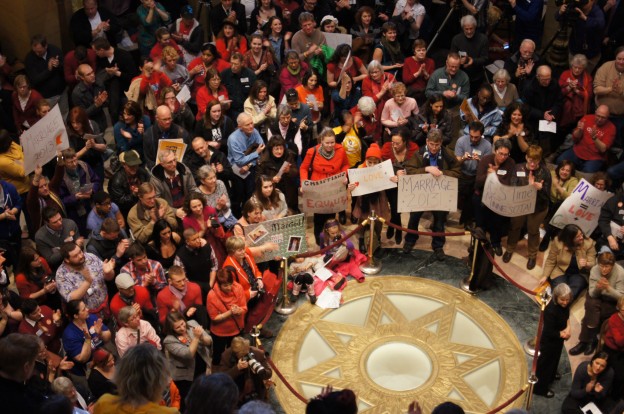 The Weekly Wrap 3-15
♣ The big news of the week is the passage of the Marriage equality bill (SF925 in the Senate and  HF1054 in the House) out of committee's in both the Minnesota Senate and House. This is certainly good news. But it was also expected.
The main hurdle will remain cobbling together enough rural Democrats and younger generation Republicans to actually get to 34 votes in the Senate and 68 in the House.
♣ On the subject of rural Democrats and Republicans possibly voting for Marriage equality, jeffmd of DailyKos Elections wrote a great piece about the breakdown of how the different legislative districts voted on the Marriage Amendment in November and how that may or may not effect the votes of the legislators who represent those districts.
♣ John Kline is hosting a fundraiser next week for none other than… Scott DesJarlais? What?
If you're unfamiliar with the Representative from Tennessee's Fourth Congressional District, some of his greatest hit's include having affairs with multiple patients (he is a doctor) and then pressuring one of them into having an abortion (he is supposedly pro-life).
But rather than doing the sensible thing and throwing DesJarlais under the bus, Republican leadership seems to be circling the wagons around him.
Good luck with that one John Kline!
♣ Jim Graves will make a decision in early April on weather he's going to run against Michele Bachmann again according to his campaign manager Adam Graves. As I have indicated in past Wrap's and likely will in future Wraps, announcements of announcements, which is what this is, are just silly.
People who read tea leaves seem to think Jim Graves will in fact run again, although I don't know that I would trust the judgement of people who try and divine meaning concerning Minnesota's sixth congressional district out of tea leaves. Like announcements of announcements that just seems silly.
♣ From Blois' morning take:
During major gubernatorial budget announcements usually statements distributed to the media are reserved for the leadership of each respected legislative caucus.  However, multiple times this session fmr. Speaker but still Rep. Kurt Zellers has sent out statements of his own on issues, in addition to Min. Ldr. Kurt Daudt.  HINT:  Zellers is still positioning himself for a gubernatorial campaign.
♣ This is an interesting bit of concern trolling by Charlie Cook. You should read the full piece, but the gist is that while the GOP will undoubtedly have a structural advantage in the House of Representatives for the remainder of the decade, this may end up being more of a curse than a blessing.
How is that so?
Between 2000 and 2010, the non-Hispanic white share of the population fell from 69 percent to 64 percent, closely tracking the 5-point drop in the white share of the electorate measured by exit polls between 2004 and 2012. But after the post-census redistricting and the 2012 elections, the non-Hispanic white share of the average Republican House district jumped from 73 percent to 75 percent, and the average Democratic House district declined from 52 percent white to 51 percent white. In other words, while the country continues to grow more racially diverse, the average Republican district continues to get even whiter.
While this will not be much of a problem in the House while the GOP has gerrymandered as many states as they have, it will certainly become a problem further upstream.
What I mean is, a lot of eventual Senators come from the House of Representatives. The more out of touch Republican Representatives become with their states at large, the more difficult it will be for them to win Senate elections. They will increasingly be facing an electorate that is quite literally foreign to them.
By drawing themselves a decade long House Majority, the GOP may have also helped to expedite their pending demographic apocalypse.
♣ The Sunlight Foundation graded the 50 states on how easy it is to access legislative data. Minnesota gets a C. In this instance then, we are not above-average. The link has more details about how they assigned grades and why Minnesota is just average.
Thanks for your feedback. If we like what you have to say, it may appear in a future post of reader reactions.