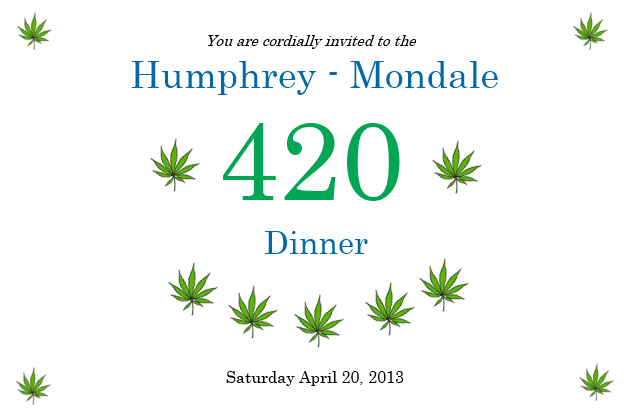 The Weekly Wrap 4-19
I'm having a bit of fun above with the coincidental (?) timing of the Humphrey-Mondale Dinner for the same day that is also reserved for celebrating weed. I'll let Wikipedia explain, for those not in the loop, so to speak:
April 20 has evolved into a counterculture holiday in North America, where people gather to celebrate and consume cannabis.
That said, someone should save me a brownie from the dinner!
♣ John Kline made an announcement today:
I have been careful to say that I have been keeping options on the table for the Senate race and the governor's race. I am not running for Senate. I am not running for governor. I am running for re-election and that's where my efforts have been and it's important that I am able to focus on that re-election.
♣ Because he's just a consultant and doesn't know any better, Keith Downey has this antidote for the Minnesota Republican Party:
The first and most important piece of that is … that we are customer service organizations. We have a set of tools and capabilities and systems and the like that all support the caucuses, the candidates and the local district officials. And so focusing on those elements first, those customer-service elements, I think, is Job One for the party. It's really the basic blocking and tackling, and that's what we need to perform better on in the next election.
Umm… okay. I guess those are things that can be done. Good luck with that Keith!
♣ As they do, DailyKos Elections rounded up all the fundraising numbers for members of the US House of Representatives. Here is the Minnesota portion, lovingly copy and pasted from the DKElections site:
| | | | | | | | | |
| --- | --- | --- | --- | --- | --- | --- | --- | --- |
| CD | Name | Party | Raised | Self Fund | Self Loan | Spent | CTD | CoH |
| MN-01 | Walz, Timothy J. | (D-inc) | $100 | $0 | $0 | $67 | $100 | $86 |
| MN-02 | Kline, John Paul Jr | (R-inc) | $258 | $0 | $0 | $68 | $258 | $750 |
| MN-02 | Gerson, David Adam | (R) | $0 | $0 | $7 | $4 | $0 | $5 |
| MN-03 | Paulsen, Erik | (R-inc) | $359 | $0 | $0 | $107 | $365 | $941 |
| MN-04 | Mccollum, Betty | (D-inc) | $101 | $0 | $0 | $71 | $103 | $63 |
| MN-05 | Ellison, Keith Maurice | (D-inc) | $183 | $0 | $0 | $137 | $220 | $87 |
| MN-06 | Bachmann, Michele | (R-inc) | $673 | $0 | $0 | $890 | $948 | $1,857 |
| MN-07 | Peterson, Collin Clark | (D-inc) | $165 | $0 | $0 | $34 | $187 | $160 |
| MN-08 | Nolan, Richard Michael | (D-inc) | $116 | $0 | $0 | $18 | $149 | $119 |
♣ Minneapolis had their precinct caucuses on Tuesday night and while the Mayor's race is the big prize, the endorsement battle will almost certainly not produce an endorsed candidate.
In the Ward 10 city council race however, such an endorsement is possible. After the caucuses incumbent council person and well known voice-mail personality, Meg Tuthill lead her three opponents with 36 of the 67 available delegates, or 54%
Lisa Bender emerged with 22, Ken Bradley 3, and Kendall Killian 3. That puts the non-Tuthill faction at 28, with three still apparently undecided.
UPDATE: To be clear, these are the results of a single precinct and not the entire Ward, which consists of nine whole precincts.
♣ Glen Stubbe of the StarTribune has some great photos from the Minnesotan's United for All Families lobby day at the Minnesota State Capitol on Thursday.
♣ Andy Parrish is apparenlty ready to throw his former employer, one Representative Michele Bachmann, under the bus, or so says John Gilmore:
The time has come to confirm that 'Witness A' is Andy Parrish, and he'll be providing an affidavit with supporting material that completely supports the representations previously made by Peter Waldron.
The allegations center around Iowa State Senator Kent Sorenson and how, exactly, it was that he got paid by the campaign. Also:
The investigations are part of a growing web of legal problems facing Bachmann, including a lawsuit by former staffer Barbara Heki alleging that Sorenson stole a proprietary e-mail list of Iowa home-school families from her personal computer.
Things aren't looking so hot for ol' Shelly, and it's possible that the FEC throws the book at her. If you are unfamiliar with what it looks like when the FEC throws the book at you, observe:
Last week, the Federal Election Commission (FEC) revealed it had fined Sen. Marco Rubio (R-FL), a mere $8,000 for accepting and failing to refund $210,000 in "prohibited, excessive and other impermissible contributions" to his 2010 U.S. Senate campaign. While the violation is rather unremarkable in the wild west-like world of campaign finance regulation, the laughable penalty levied by the FEC serves as yet another example of how such paltry fines arguably encourage rather than deter illegal conduct.
The last week referred to in the beginning of the quoted text is the last week of April 2012. Meaning that during his 2010 Senate campaign Marco Rubio raised $210,000 against the rules.
The result? A year and a half later he got an $8,000 fine. Just under 4% of total of improperly raised funds. The amount of money involved in the Bachmann case, at least the parts of it that we know about, amounts to much less than $210,000.
In other words, I wouldn't hold out too much hope that anything actually punitive will come from this. She will likely be fined a couple grand and that will be the end of it.
The real question becomes, with an enforcement system like this, why does anyone follow federal fundraising laws in the first place?
♣ And for another example of the serious fines being handed out to help enforce campaign law; as penalty for setting up a shell corporation to funnel contributions for 2010 recount expenses, the guilty parties received a total of $1,200 in fines.
Again, if this is the justice facing people who blatantly break campaign law, what is to stop people from blatantly breaking campaign law?
♣ In what is almost surely to be their dumbest move all session, the Minnesota Senate, with zero Republican votes, narrowly passed a pay raise for Legislators and the Governor on a vote of 34-32.
I am almost always loath to think about the electoral implications of good policy. If a thing is good policy, then the politics shouldn't matter. I know that sounds awfully naive, but hey, I'm just a blogger right?
This is a thing though that while it's good policy, the politics of it are so bad that it doesn't really matter. In fact, the politics of it are downright toxic.
None of the reasons for why this is good policy are going to matter to voters, the only thing they will hear is that legislator X voted to raise their pay.
There is no way to message this.
There is no way to sell it.
We can only hope that the house has the good sense to not do the same dumb thing.
So the senate officially voted to raise its own pay before voting to raise the minimum wage. 'Leadership.'

— Ryan Winkler (@RepRyanWinkler) April 16, 2013
The DFL Senator's who voted against the bill were; Kevin Dahle, Susan Kent, Vicki Jensen, John Hoffman and Greg Clausen.
Kevin Dahle barely won election in 2012 and faced a recount because the margin was so close. Susan Kent won by just 4%, Vicki Jensen 5%, John Hoffman 6% and Greg Clausen 8%. And all are freshman.
The deciding vote, according to the PiM story linked, was Kent Eken, who won by just 4%.
"I did not agree with the [the pay increase]. That's why I initially voted no. But when I saw the votes weren't there to pass the bill, I thought it wasn't worth sacrificing all the other good parts of the bill," Eken said.
So this albatross almost didn't pass, and while it's unfair to hang the entire thing around Kent Eken's neck, that's what I'm going to do. He actually switched his vote from no to yes to ensure that this thing passed even though he's against it. Let that bit of logic sink in for a moment.
Unlike John Kerry, he was against it, before he was for it. Or something.
This was an epicly stupid vote to have allowed to happen, and for that of course we have Tom Bakk to thank.
Thanks for your feedback. If we like what you have to say, it may appear in a future post of reader reactions.