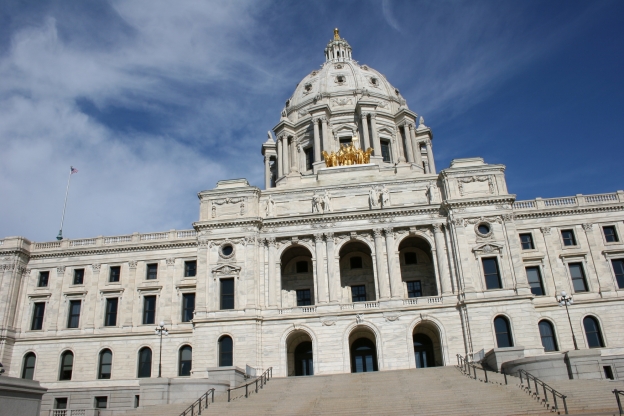 Let the cross examination begin!
What about Hann?
The depositions in L'affaire Brodkorb are about to begin.
AP: 1st wave of deposition notices out in Brodkorb affair; current Sen Senejm, fmr Sens Robling, Gerlach, Michel may be questioned. #mnleg

— Patrick Kessler (@PatKessler) April 17, 2013
The first "wave;" I like that. Some of you will recall this photo from December 2011; it was the Scarlet Letter award ceremony for Amy Koch after she met with the Deputy and others at the Minneapolis Club (where they undoubtedly ran into Tony Sutton trying to raise money for the Emmer recount) and "voluntarily" resigned as the leader of the Senate.
Let's see: Senjem? Check. Michel? Check. Gerlach? Check. Hann? . . . Hann?
Where's Hann? Apparently, in the second wave.
Former Senator Claire Robling is also to be deposed; she was present at the Minneapolis Club coup, in case any searches were necessary. Oh, and Cal Ludeman is on the list, too.
Dave Senjem's response to the news is the best:
Ya gotta love Sen. Senjem in Brodkorb story: "I don't expect there will be too much new under the covers in my life." bit.ly/13jzMfX

— Lori Sturdevant (@sturdevant) April 17, 2013
He said wistfully. Okay, I made that up.
There are a couple of interesting things about the notice of these depositions. Somewhat unusually, the notices were apparently filed with the clerk of court. There was some recent scuttlebutt around that Capitol that the Senate was going to move for a protective order to shut up the depositions and the discovery generally. These filings head that off, at least to some degree.
We can also expect that all of the deponents, and any future ones who are or were at times relevant to this matter (as lawyers might say) employees or agents of the Senate, will seek — and get — indemnity against liability and payment of their attorney's fees for preparation and representation in the deposition.
Tom Bakk and the Senate Rules Committee can expect to be going over a lot of legal bills in coming months.
Thanks for your feedback. If we like what you have to say, it may appear in a future post of reader reactions.