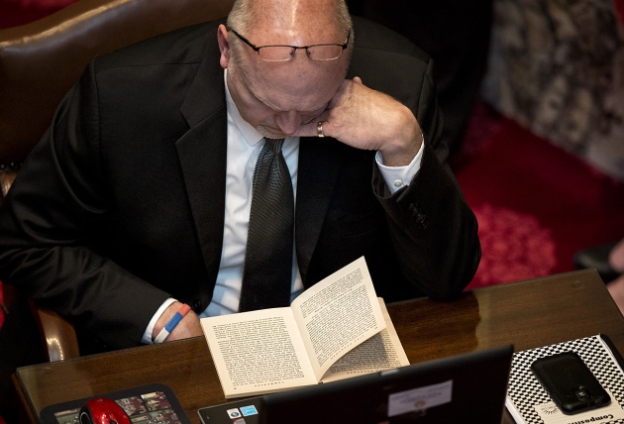 Roger Chamberlain reads a book
While plugging his ears and singing "la la la la"
Of all the reactions to the debate on the marriage equality bill by Republican Senators yesterday, among the most juvenile was from Sen. Roger Chamberlain.
Chamberlain was ostentatiously not listening by reading, according to the Strib, Life Together: The Classic Exploration of Faith in Community, an ironic choice to say the least.
The book was written by Dietrich Bonhoeffer, a Lutheran pastor who was executed by the Nazis just as the war was ending. His crime was participating in a plot to kill Adolph Hitler but he'd been active throughout the war in opposing the genocidal policies of the Third Reich. Bonhoeffer was a champion of oppressed minorities.
Here is just a little of what Rabbi Joshua Levine Grater said about Bonhoeffer in a recent article on The Huffington Post:
The second book [influencing Grater's thinking about the Higgs Boson particle] was "Bonhoeffer, Pastor, Martyr, Prophet, Spy" by Eric Metaxas about Dietrich Bonhoeffer, a German Lutheran minister who fought against, and eventually was killed, by the Nazis for being part of a plot to assassinate Hitler. Bonhoeffer, a smart, aristocratic and wealthy man, born into a noble family, twice came to America: first to study with influential theologian Rienhold Niebuhr, and then to teach at Union Theological Seminary in New York. It was in America, and particularly in Harlem at the Abyssinian Baptist Church, that he learned about segregation and the oppression of African Americans. Through listening to fiery sermons from the likes of Adam Clayton Powell Sr. in Harlem, and Rabbi Stephen Wise at the Free Synagogue, Bonhoeffer came to understand the sufferings of minorities, and the ineptitude of his church to do anything serious about them. It was during this time, early 1930s America, that he is said to have "turned from phraseology to reality." He taught, spoke out, gave thousands of speeches, started a new church, a new seminary and organized against the Third Reich. After coming again to Union in 1939, his conscious ate at him for running from evil. He did the unthinkable when he left the safety of America in late 1939, to return to this native Germany to fight against the Nazis. He is said to have been on the last chartered ship across the Atlantic. I was quite inspired by his notion that God was so good and compassionate, so full of righteousness and justice, that he, Bonhoeffer, couldn't sit back and not try to bring his own Godly energies into the heart of darkness that was engulfing the world, and murdering our people. He was arrested and hung in 1945, just days before the war ended. This man, a friend to the Jewish people and humanity, from a privileged class, was a vivid example of a life centered around one's God particle.
Bonhoeffer has been hijacked and made a martyr for religious freedom by the right wing. But it is bust-a-gut funny that Roger Chamberlain sees a connection that makes Dietrich Bonhoeffer and Chamberlain simpatico. Apparently, Chamberlain thinks he some kind of religious freedom fighter and martyr.
Bonhoeffer's Christianity wanted to un-oppress people; Chamberlain's version wants to oppress people. To him, it's oppression when he can't tell other people what to do.
Thanks for your feedback. If we like what you have to say, it may appear in a future post of reader reactions.