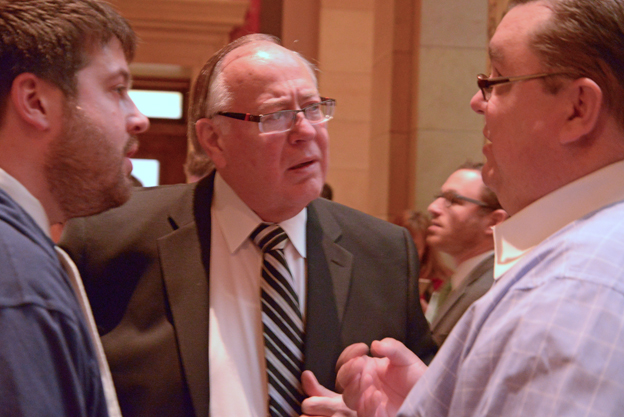 Dave Senjem decides to face the freight train
The Minnesota Senate voted on marriage equality today, and the measure passed 37 – 30. Three DFLers voted against the bill, and one Republican, Branden Petersen, voted for it.
Oddsmakers had Dave Senjem voting for the bill. Dave is quoted recently that opposing gay marriage was like standing in front of a freight train.
It certainly seemed that way if you were in the Capitol today for the vote. The crowd was bigger than last Thursday (when the House voted), and the proportion of pro-marriage equality supporters was much higher. There was singing — sometimes in harmony — much of the day; the mood was festive and celebratory.
Website sidekick Tony took some video that we'll post in coming days.
Update: Reader Nathaniel left this comment:
Senjem spoke before the vote, mentioned a gay couple on his block who keep their place looking real sharp, mentioned a lesbian couple he has known for a long time who said they'd invite him to their wedding (and he said he'd go). He didn't indicate during his speech how he'd vote. Then when the time comes, he votes NO. Now that's bad manners. I hope his gay and lesbian "friends" feel free to shun him from here to eternity. He's a great example of the worst of Minnesota nice. I don't suppose he plans to run again, be I hope he's soundly defeated if he does.
I think, Nathaniel, a couple of things may at work here. First, Dave is famous for inviting people inside his head to wander around with him while he tries to figure out what to do. Second, Dave certainly wants to be on record that he is not a homophobe — at least he doesn't seem like one to himself — just as Tony Cornish did a few days earlier in the House. It is called trying to have your cake and eat it, too.
Certainly, Dave wants to put some rhetorical — and historical — real estate between himself and Senate goombahs like Warren Limmer, Dan Hall (who said in the Senate chamber not so long ago that some of his best friends were "minority"), and Torrey Westrom. But, regrettably for Dave, they all had the same color button.
Thanks for your feedback. If we like what you have to say, it may appear in a future post of reader reactions.