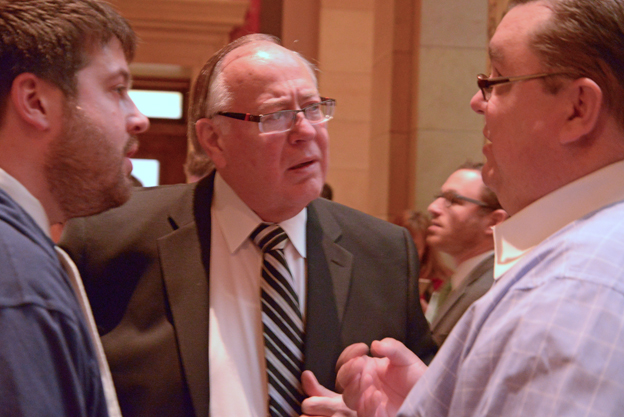 Dave Senjem's freight train
In an interview with the Rochester Post Bulletin's Heather Carlson, Dave Senjem says his marriage equality vote will be "spontaneous." This means, I suspect, that Dave's a "yes" vote.
"I am just going to wait until that magic moment and make that decision in a pretty spontaneous way," he said.

If he had to vote at this moment, he said he would probably vote "no." But he said he is not sure what he will do when actually confronted with the decision. When he talks to young people, it is clear most of them support gay marriage. He added that attempts to block gay marriage amount to society "standing in front of a freight train."
This is vintage Dave.
The photo is from Lobby Day a couple of weeks ago. And on that day, anyway, it wasn't a freight train, but rather a big red and yellow chartered bus from Rochester.
Thanks for your feedback. If we like what you have to say, it may appear in a future post of reader reactions.