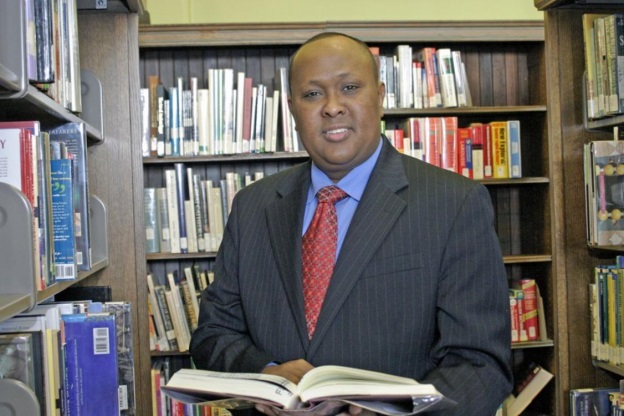 The Weekly Wrap 8-31
♣ Sad news earlier this week. Minneapolis School Board member Hussein Samatar, pictured above, succumbed to leukemia on Sunday at the age of 45. Besides the family he leaves behind, Samatar's legacy includes the African Development Center he founded, and whose mission is to:
African Development Center works within the African communities of Minnesota to start and sustain successful businesses, build wealth, and promote community reinvestment.
Samatar had indicated that he would be getting into the Minneapolis Mayors race last November, but was then diagnosed with Leukemia not even a month later.
Hussein Samatar will be missed.
♣ Eric Black wrote a good piece about Ranked Choice Voting or Instant-Runoff Voting, take your pick. Specifically he discusses the IRV myth that the winner will always get 50%+1 of the vote. I've discussed this very same thing on these here electronic pages in the past.
The winner of an IRV election will always win 50%+1 of the ballots counted in the final count. Since it's possible that not all ballots make it to the final count, it's also possible that whomever whomever wins won't actually garner 50%+1 of all the ballots.
I don't view this as a flaw with IRV, after all it's something that exists in our current system. I view this as a flaw with the talking points of IRV supporters. If you go to the FairVote MN website and click on the button to take you to the "Why RCV is Better" page, the number one bullet point of why IRV is better is this:
Upholds the principle of majority rule
Which, as we have learned, is nothing but empty bullshit.
♣ Because seeing this never ever gets old, here's Al Franken at this year Minnesota State Fair drawing a map of all 50 US States, freehand.
♣ In a candidate forum at the Minnesota State Fair, three of the GOP's great white Gubernatorial hopes all said they would get rid of the new MNSure health insurance exchange set to start operation shortly.
"I would do anything I could to end them," [Dave] Thompson said during the discussion moderated by political science professor Larry Jacobs, director of the University of Minnesota's Center for the Study of Politics and Governance.

"I don't believe it can be fixed," [Jeff] Johnson said of the insurance exchange.

"It isn't going to work," [Kurt] Zellers said.
These three seem to have a fundamental misunderstanding of how the Obamacare law actually works.
If you are in favor of getting rid of MNSure, which all three of them indicated that they are, then you are also in favor of letting the Federal Government come into Minnesota and run the exchange for us. Because that would be the end result.
There is nothing that the Governor of Minnesota can do to get rid of Obamacare. So the choice that these candidates face is simple, keep MNSure running or let the Feds do it for us. Those are the only two options and all three of these Republicans are in favor of handing over control of Minnesota business to the Federal Government.
Good luck with that one guys.
♣ Yesterday, at the Great Minnesota Get Together, Ian Levitt, Robert Baril and myself got together to talk about topics of current interest. Topics discussed include Syria, teh Gays, and teh Pot.
It seems as though this may become a regular sort of thing on Ian's new AM Radio program, The Ian Awesome Show.
Oh wait, that's not what it's called, it's The Awesome Ian Show.
No? The Awesome Show?
Huh… I thought for sure that one of my awesome name ideas would be utilized.
I'm being told that the for realz name of the new show is "The Daily Report," and it will air daily, during the week, so week-daily, from 5-7 in the PM, coincidentally, just as MPR is beginning to repeat themselves.
Below is an artfully embedded audio file of us talking into microphones at the State Fair.
Thanks for your feedback. If we like what you have to say, it may appear in a future post of reader reactions.