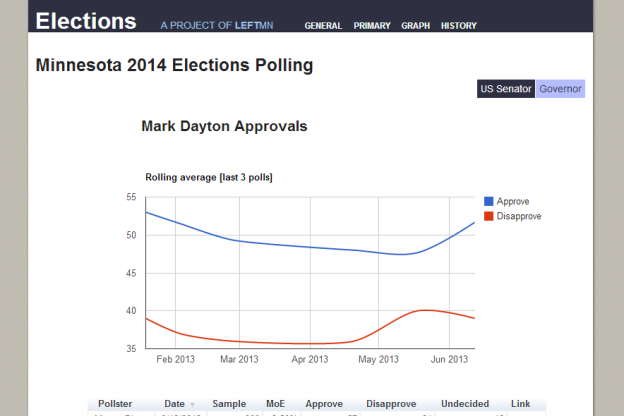 LeftMN Projects: Minnesota Elections Info
Because those of us here at LeftMN are so dedicated to bringing you the best in Minnesota political coverage, we have a number of projects in the works to help us do just that. The first of these that we are revealing is the Minnesota Elections Info site, which can be found at: elections.left.mn  [Update: You can navigate there from the front page of LeftMN, too, by clicking on the "Election Resources" badge.]
What is the Minnesota Elections Info site? Well, I'm glad you asked.
This project was born out of spending an inordinate amount of time on the Minnesota Secretary of States website looking at election results. If this is a thing you've done, you know how tedious it can be to navigate, not only between different races, but also between different years.

The goal for this site is to provide a simple interface for quickly navigating between results in different years and races. As well as to provide a common sense and consistent url structure for easily locating election data.
Because I'm a big nerd I spend more than my fair share of time poking around the Minnesota Secretary of State's website looking at election results. I've never been a huge fan of the interface they have at that site for navigating elections data, but this last election my frustration with the site came to a bit of a head when they completely changed the url structure for legislative race results from the format it had been in for the previous few cycles.
This is a super nerdy reason to be frustrated, but it irked me because it made navigating between different races and years that much more tedious. And it was already a more tedious process than it needed to be.
The Minnesota Elections Info site is the result of those frustrations with tedium.
Right now the site contains current elections polling on the front page, General and Primary election data from 2000-2012 (no special elections data yet), a graph that allows you to view general election data by office for all years with data, as well as a timeline of Minnesota political history.
I'll have more posts this highlighting different features of the site, so for now, go take a look and let us know what you think.
Thanks for your feedback. If we like what you have to say, it may appear in a future post of reader reactions.