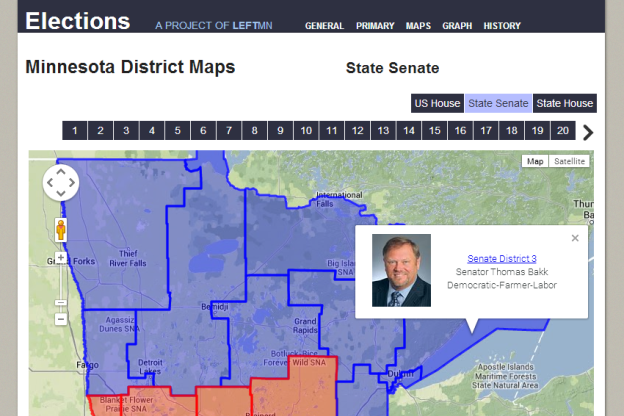 MN Elections Info site: New Feature!
Last week I introduced the Minnesota Elections Info site, a home for all Minnesota Elections junkies. I've previously covered other aspects of the site; General elections results, Primary elections results, a general elections Graph and a timeline of Minnesota electoral history.
This week, a mere one week later, I am introducing a new feature of the Minnesota Elections Info site… District Maps.
Above is a screen shot of the Senate district map, below is a screen shot of the House district map. There are congressional district maps on the site as well.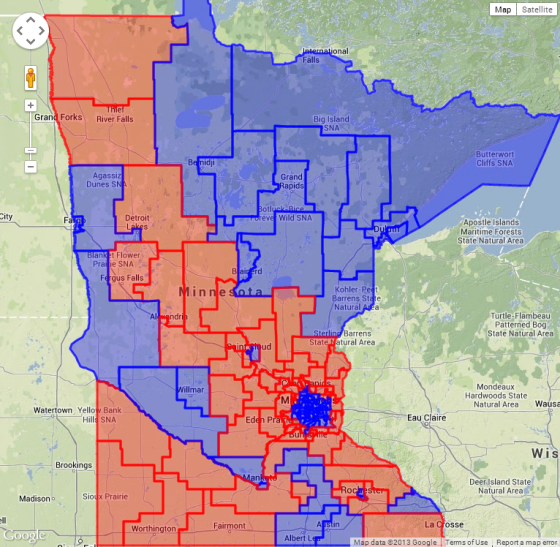 It's a Google Map, so you can zoom in and out and move the focus around. Also, if you click on a district a text balloon will appear with some relevant info. From the "all districts" view, like the ones shown above, you will get a picture of the current seat holder, their name and party and a link to the individual district map page, as pictured in the image at the top of this post.
This is especially useful for putting faces of Minnesota Legislators to names and districts.
The individual district pages are similar to the "all districts" pages, except there is just one district outlined. One such page can be seen below: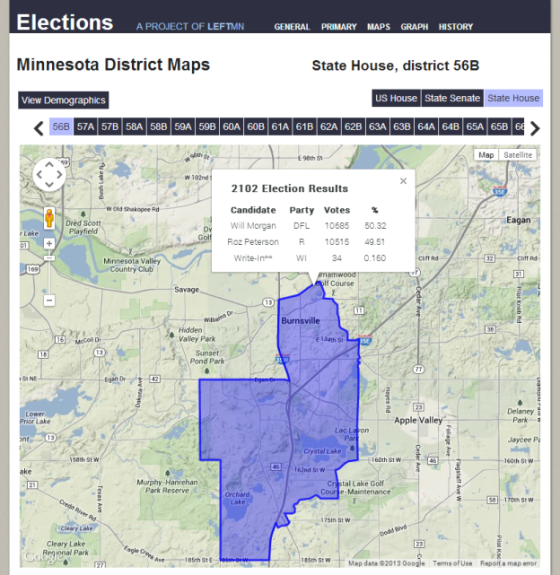 From this page clicking on the district will get you the results of the most recent general election in the district. Also, at the top left there is a button that says "View Demographics", clicking this button will show the demographics of the district.
And there you have it, District Maps. As always you can let us know what you think in the comments here on the website, or you can leave feedback at: http://elections.left.mn/feedback
Thanks for your feedback. If we like what you have to say, it may appear in a future post of reader reactions.