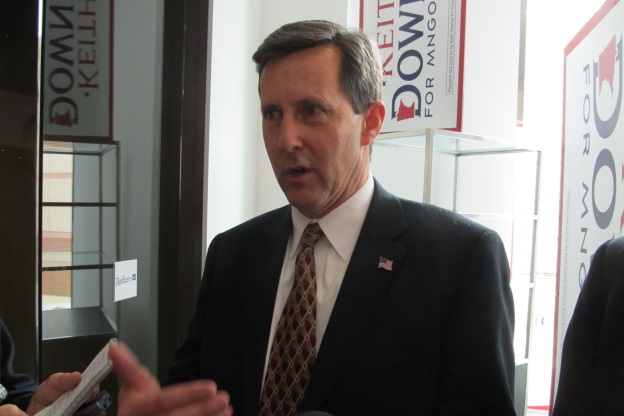 The Weekly Wrap 12-22
♣ It's that time of year, where the retirements of incumbent legislators start coming in bunches.
Already this year Rep. Michael Paymar (64B) and Rep. Andrea Kieffer (53B) have both announced their retirements. And Rep. Mike Benson (26B), who is running for the GOP endorsement to take on Tim Walz in Minnesota's first congressional district has said that he isn't running for re-election to the house.
Both Kieffer's and Benson's seats are at the outer fringes of seats that the DFL could conceivably win. While Paymar's seat is in St. Paul, and will almost certainly elect another DFLer. Which is to say that the nature of the retirements so far seems to slightly favor the DFL.
There were more retirement announcements this week, two of them to be precise, and they both came from DFLers. The first was Rep. Tom Huntley (7A) who represents Duluth. Like Paymar's seat in St. Paul, this seat is a virtual DFL lock.
But who the DFLer is that will succeed Huntley will likely be a point of contention, as those who support the proposed mining projects in the area and those who oppose said projects will want someone who is sensitive to their side of the issue as the nominee. The dynamic that plays out in the choosing of a nominee for this seat will be the thing to watch with this race.
The other retirement announcement this week came from Rep. John Benson (44B), whose district resembles those of Kieffer and Benson moreso than those of Paymar and Huntley. What I mean is that Benson's seat is on the outer fringes of the types of seats a GOPer could conceivably win.
And there are already candidates:
Jon Applebaum

Applebaum is a real estate consultant at a company he founded. He also serves as Of Counsel to a growing law firm located in the western suburbs of Minneapolis. He is a graduate of Vanderbilt University in Nashville, Tennessee and the University of Minnesota Law School.

Jon Tollefson

Jon Tollefson, of Minnetonka, served in the U.S. Department of State as a Foreign Service Officer in Nigeria, Washington D.C., and most recently in Mexico City. Following the Foreign Service, he returned to his hometown of Minnetonka and is currently employed by the Minnesota High Tech Association.

State Senator Scott Dibble is co-chairing Tollefson's campaign with Joyce Fiedler, a resident of Minnetonka.
Rachel Stassen-Berger put together a Storify with all the current retirement happenings.
♣ State Senator Torrey Westrom has already announced his candidacy against US Congressperson Collin Peterson, but he may not have the Republican field to himself:
Montevideo businessman Scott Van Binsbergen announced Tuesday that he is considering running for the Republican party nomination for the United States Seventh District Congressional seat currently held by DFL-er Collin Peterson.
It should be noted, Petersen has not yet indicated whether he will even be seeking another term.
♣ The DFL Senate caucus just got hit with a big campaign finance violation:
Democrats in the Minnesota Senate must pay a $100,000 fine to settle campaign finance complaints filed against them by Republicans in 2012.

The state Campaign Finance and Public Disclosure Board imposed the penalty today for violations of the limit on contributions allowable to individual candidates. The board ordered the DFL Senate Caucus campaign committee to pay half of the civil penalty within 30 days, and the rest within 90 days. There were no penalties assessed against candidates.
The jist of the story is that the DFL Senate caucus organized photo shoots for individual candidates and then used those photos in campaign mailings. These types of things, campaign spending by organizations who are not the campaigns, come with a certain set of rules, one of those rules is you can't coordinate with the candidates themselves. Which, setting up photo shoots for them pretty much is.
But really, how much effect did this have on the election? I would argue that the effect was likely so small as to be irrelevant. But this is not the way some people see it:
Here's now Senate minority leader David Hann (a Republican who barely survived his 2012 election):
The question really needs to be asked, 'Would they have won the majority if they hadn't cheated?
And here's Keith Downey (a Republican who lost his 2012 election):
Many of the Democratic Senators on this list won their elections by narrow margins. We will never know how this illegal coordination would have impacted the results in these races and ultimately control of the legislature. They cheated, they won, but at least they are being held accountable now.
I understand that these are things that both of these men probably should be saying, you know, for all the reasons that politicians say the things they say.
But this idea that the 2012 election was won, not by some pieces of mail mind you, but by the specific picture that appeared in those pieces of mail, well this is just craziness.
But let's look at this more closely, because it really won't take long.
Here is a table with all the DFL candidates who got their photo's taken and the percentages they won by:
| | |
| --- | --- |
| Candidate | % |
| Kevin Dahle | 0.2 |
| Kent Eken | 4 |
| Susan Kent | 4 |
| Tom Saxhaug | 5 |
| Matt Schmit | 5 |
| Vicki Jensen | 5 |
| Melisa Franzen | 6 |
| Jim Carlson | 6 |
| Alice Johnson | 7 |
| Gregory Clausen | 8 |
| Lyle Koenen | 11 |
Right now the DFL has a 39-28 majority in the Senate, this is the same majority they had as a result of the 2012 elections. For the GOP to have remained in control of the chamber, they would have needed to hold onto/win 6 seats that ended up in the DFL column.
The sixth person on that list, they are ordered by the margin they won by, is Vicki Jensen who won by 5%, or 1,962 votes.
And again, we're not talking about sending the mailers out or not sending the mailers out, we're talking about the visual content available for use on the mailings that are getting sent out. It's almost impossible to fathom that the the lack of the availability of a specific photograph to be used in a mailer would cause the mailer that got sent out to lose it's effectiveness by this high of a degree.
For this to be the case, first you have to assume that mailers have any meaningful effect, which I think is a dubious assumption at best. Then you have to assume that the effect that mailers have is of such a degree that it can swing an election by more than 5%, an assumption a few degrees more dubious than the previous dubious assumption. And then on top of all of that, you have to assume that using a quality photograph in these mailers can swing that same election by more than 5%.
The idea that a single mailer could swing an election even a single point is something I would be very skeptical of. When you put it into the context of the election environment that played out in many of these districts in 2012, where sometimes as many as half a dozen mailers showed up each day, well, the idea that a specific mailer would swing an election by 5 points is only a thing that the companies printing the mailers would claim, and even they would probably be more circumspect.
♣ Eric Black wrote a piece entitled "Why DFL is (somewhat secretly) divided over ranked-choice voting," that he introduces this way:
This started out to be a review of how ranked-choice voting (RCV) performed in its big Minneapolis test last month and what that portends about RCV's future in Minnesota. It's turned into a more interesting (at least to me) exploration of why the DFL Party is (somewhat secretly) divided over RCV, for reasons that are hard to nail down and are not discussed publicly.
This seems like a rather obvious answer, and Black hits on that answer in his piece:
When I asked people who had been close to the campaign why the establishment crowd seemed to dislike RCV they explained to me — slowly and clearly, as to a small child — that the establishment has thrived, succeeded and become the establishment under the previous system. When you are winning under a system, you don't want to change it, they said.
There's a saying in politics, and I suspect it's used in other fields as well, that goes "Dance with the one that brung ya." The establishment got to be the establishment under the previous set of rules, and so they have no desire/incentive to want to change those rules. To me this is not such an interesting revelation, as it's not at all surprising that the establishment would be against new things.
The interesting thing to me about Ranked Choice Voting, or at least the thing I think is worth exploring, is why it's proponents insist on using talking points to promote it that are blatantly false, or at best, not provable. If Ranked Choice Voting really was such a good thing, proponents wouldn't need to lie about it's effects, but they do. The question is why?
Thanks for your feedback. If we like what you have to say, it may appear in a future post of reader reactions.