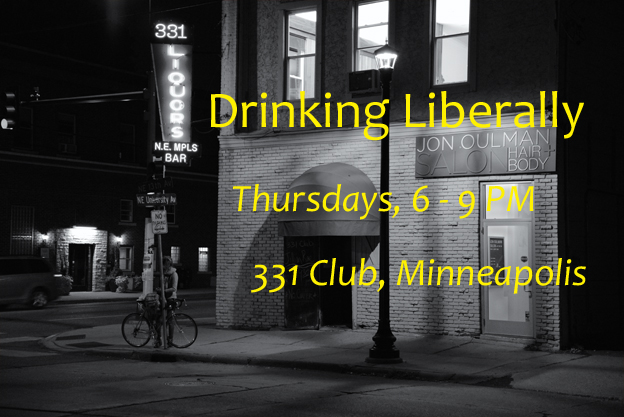 A "Don't Miss" Drinking Liberally
This Thursday, May 15th, our guest at Drinking Liberally will be Michael Brodkorb. A presentation and a discussion with Michael will begin at seven o'clock PM at the 331 Club in Minneapolis, 331 – 13th Avenue N.E. People start to gather at six for DL, and you will want to be early for this one.
The topic will be the upcoming conventions and campaigns for 2014; website sidekick Tony Petrangelo will join Michael on the 331 Club stage.
I met Michael at Drinking Liberally — it's true; I did — over seven years ago. He was at the time doing oppo research for the Republicans. He isn't doing that anymore, but he writes a blog, politics.mn, just voted best blog in Minnesota by City Pages, and he's started writing for the Strib, too.
I guarantee, my friends, that you will learn more about the upcoming political season on Thursday evening than any other time this year. If you don't, I will refund double the ticket price.
Update: Here's Michael's reaction to his guest appearance.
Thanks for your feedback. If we like what you have to say, it may appear in a future post of reader reactions.