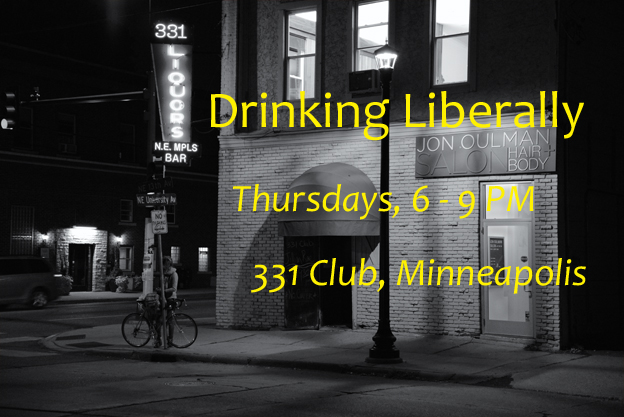 Drinking Liberally news!
April 25th – Tomorrow night, Thursday, April 25th, the guest speaker at Drinking Liberally will be Minneapolis Third Ward Council Member Diane Hofstede. Diane has been the CM from the Third Ward since 2006, and she is running for re-election in November.
DL will meet that night, as it always does, at the 331 Club, 331 – 13th Avenue NE in Minneapolis. Guess which Ward that is in?
DLers start to get together around six PM, and Diane's remarks will begin at seven.
May 2nd – Next week (also Thursday, starting at six, of course) we'll have the ten-year birthday party for the national organization Drinking Liberally. The Minneapolis chapter was started a year later, in 2004. We'll have a short presentation on the history of the organization, and I hope lots of people who have attended over the years — and you know who you are; well, and I do, too — will be there.
I am trying to line up a special guest who was instrumental in getting DL started here. It might not be who you think it is.
Thanks for your feedback. If we like what you have to say, it may appear in a future post of reader reactions.