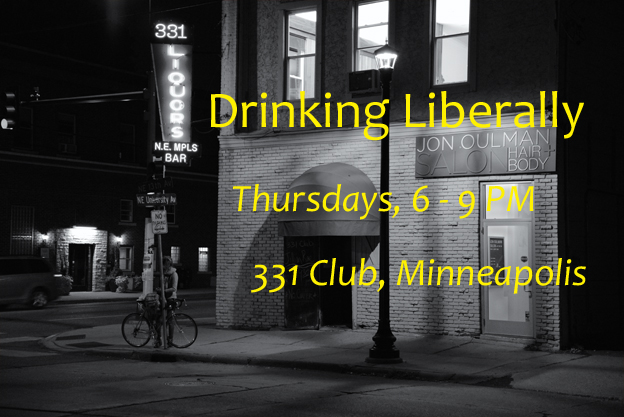 Drinking Liberally's tenth birthday party!
Update: Journalist Nick Coleman will be at Drinking Liberally for the birthday party tonight. Nick wrote a column about the New York chapter and the formation of the national organization in 2004; it was the inspiration for the formation of our chapter.
In October of 2004, a year and a half into the foreign policy blunder known as the Iraq War, the signature initiative of the Bush presidency, and in fact on the eve of George Bush actually winning a presidential election, a hardy bunch of liberals in Minneapolis (actually from around town), who were muttering about the state of affairs, anyway, decided to form a chapter of the then-nascent national organization, Drinking Liberally. And we're still at it.
We will mark the occasion next week, Thursday, October 9, 2014, from six to nine PM, at Drinking Liberally's ancestral home in Minneapolis, the 331 Club, 331 – 13th Avenue N.E.
There will be more details for follow, but it'll be a festive affair.
If you are a long-time member, an occasional member, or if you have never been to Drinking Liberally, we'd be honored if you are there.
Thanks for your feedback. If we like what you have to say, it may appear in a future post of reader reactions.