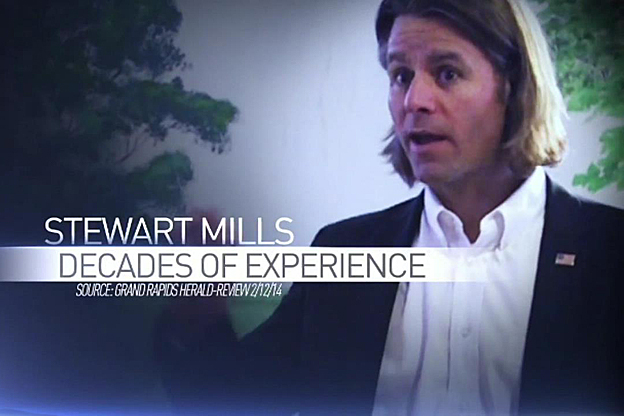 Stewart Mills: choose him for the experience
The US Chamber of Commerce has an independent expenditure teevee ad touting Stewart Mills for Congress. If you watch the metro television stations from, say, Northfield, you might conclude Mills is running against John Kline. But you would be mistaken, of course, since Mills lives in the Brainerd area and is running against Rick Nolan for the Eighth District seat.
The fringes of the district are part of the metro media market, but it must be hellish expensive per eligible Eighth-District voter to advertise this way. But money is one thing the Chamber has got.
Now it must be said first of all that the ad is a much better introduction of the candidate than Mike McFadden's flub fest a few days ago, where his campaign introduced the candidate to a breathless crowd by saying that he wasn't Mitt Romney.
That was probably the worst political pick up line in the history of political pick up lines.
I expect, however, that more than a few viewers of the teevee ad will see it and find it incongruous that a person who is described as having "decades of experience" looks like the drummer in a high school garage band. Not that there is anything wrong with that; it's just we don't ordinarily send them to Congress.
According to Mills' campaign website (you can find it), he's 41 years old. Let us hope that the Chamber was referring to only two decades of experience, because I doubt that puberty is the kind of experience that voters are interested in. And some of us think more of this when Stewart is brought to mind:
Mills says, Yes, I could party hearty, but I've changed.
"My wife and I have had many lighthearted moments in our lives but right now I am focused on my Congressional campaign and the disastrous effects of our overreaching government and sky high unemployment in the north eastern Minnesota," he said in the statement.
Stewart, was this the photo from the first post-puberty decade, or the second one?
Again, according to his campaign website, Mills graduated from college and began to work immediately in the family business, where he soon learned to excrete jobs all by himself. And he has emerged from the bong buzz as a tested executive ready to tame Washington.
This is the kind of thing that only silver spoon experience can teach.
Thanks for your feedback. If we like what you have to say, it may appear in a future post of reader reactions.