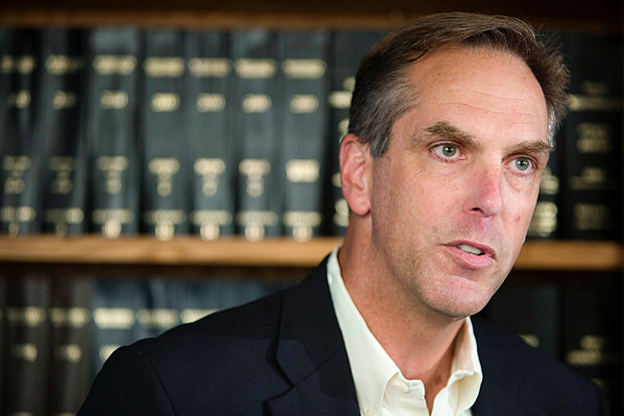 McFadden: I am not Mittens!
The self-beleaguering Senate campaign of Mike McFadden has an important message for you:
WASHINGTON — The Senate campaign of Minnesota businessman Mike McFadden is in town pushing a message: Investment banking is not the same as private equity.

Or, in political terms: McFadden is not the failed GOP presidential candidate Mitt Romney.
Unlike what Mittens does, you see, an investment banker like McFadden just listens for someone humming Matchmaker, Matchmaker, make me a match, and then moves in to help:
McFadden's handlers said Wednesday that investment banking differs from private equity in that there is scant operational control beyond simply helping others buy and sell companies. A struggling company will hire an investment banker, for example, to find a buyer and once a suitable buyer is found, the investment banker is usually done with the deal, campaign officials said.
Well, for a fee, but never mind. But the investment banker never knows what the buyer is going to do with the company. Never. Well, hardly ever.
Whatever happens next is now in the new buyer's — not the investment banker's — control, campaign officials say.

Even if a company is chopped up and sold off or moved to Mexico. Over his two decades in investment banking, McFadden's hands were in roughly 100 $10 to $150 million deals, his campaign said. In some of those deals, other media have reported the sold-off companies shed jobs, closed plants or sent off jobs south of the border.
According to McFadden's "handlers," the briefing was held to head off charges that might be made about his charitable work.
There is a campaigning term of art for this. It is called "serving your candidate up on a plate."
Update: Not only is McFadden not Mittens, he's a trained medical professional. Watch:
Stitches from Mike McFadden on Vimeo.
In his second TV ad, U.S. Senate candidate Mike McFadden pledges to take out Obamacare as Minnesota's next Senator. In the ad, Mike and his oldest son Conor recount a story of how Mike, upset over the cost of having his son's stitches removed, took a nurse's scissors and removed the stitches himself. McFadden is challenging Sen. Al Franken (D-MN).
Thanks for your feedback. If we like what you have to say, it may appear in a future post of reader reactions.