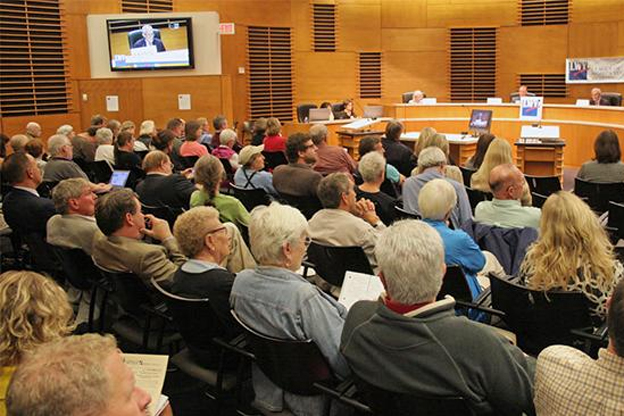 #49 debate, part six
Update: There's been whining, of course. Somebody wrote and said that Barb Sutter IS NOT the co-chair of the 49 Republicans, nor was she the convention co-chair when Dario Anselmo was endorsed.  Fair points. Believe me, I was not at the Republican convention in 49.
Obviously, if she was running for an endorsement, she wouldn't have been chairing the convention and would have taken leave of any party post. But when Rosenthal noted that she had been the co-chair of the 49 GOP, she didn't deny it, and in fact said that her party role in bringing the right wing and the moderates together was a plus.
In this, the concluding segment of LeftMN's coverage of the HD49 debate, we have just a few remarks by Barb Sutter, who is not only the Republican candidate in HD49B; she is the co-chair of the 49 Republicans (or was) as well. She's Dario Anselmo's stablemate in 49, and part of the party apparatus that saw Anselmo endorsed, too.
The clip is a remarkable little credo for Sutter. She disclaims a "deep passionate belief" in climate change, mocking people who are concerned about the warming of the planet. It's a little inside joke, of course: conservatives jeer at environmentalists as adhering to the religion of "deep ecology."
Sutter goes on to say that the efforts of Minnesota and the U.S. in reducing carbon emissions are "meaningless." The Union of Concerned Scientists says that the US is the second largest per capita emitter of carbon, trailing only Australia, where, let's be frank, nobody lives. In terms of absolute numbers, the US is behind only China, and we know how great the air is there.
It is my hope that the internet wayback machine will preserve this story for Barb Sutter's great grandchildren, sitting under a palm tree in Bloomington, or hunting southern bog lemmings on the savannahs of Manitoba, to read.
Anselmo's campaign chair, Minneapolis' Cam Winton, had to throw up in his mouth, just a little, at Sutter's remarks; Winton's a wind lawyer.
But for me, the best remark of the entire evening came at the very end, when Sutter said that her ability to bring "far right" and the "moderate" Republicans together was proof that she is suited to work as a bipartisan.
This is a fair use clip of a video that you can see here.
Thanks for your feedback. If we like what you have to say, it may appear in a future post of reader reactions.