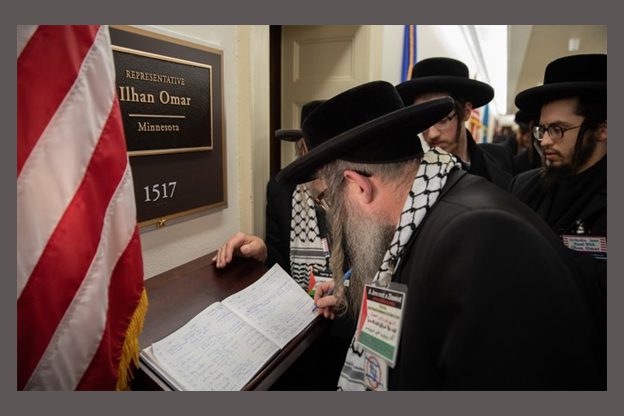 The giant freakout continues, unabated, part four
Update 3/13: An Arkansas newspaper filed suit against the anti-BDS statute in that state. The hardship to and deprivation of civil rights of American citizens by these laws are manifest, and as I mentioned, it is stark proof of a dual loyalty, nay, a preference for Israel.
In related news, Juan Cole of Informed Comment reports:
South African President Cyril Ramaphosa has said that his government is planning to downgrade its diplomatic mission to Israel.
When South Africa calls you out as an apartheid state, it'll leave a mark.
– o O o –
Andrew Sullivan had a recent piece about the firestorm created by Rep. Ilhan Omar and her comments about AIPAC. He begins by saying that her remarks about the "Benjamins" and the "dual loyalty" or loyalty to a foreign power were anti-Semitic, but then he goes on at length proving what Rep. Omar has said is true. It was really an astonishing disconnect. I kept going back to see if I'd read the premise wrong. Apparently, Rep. Omar is right but she wasn't nice about it. I think, however, we are long past the time for parlor language to talk about Israel and its defense by AIPAC.
As an aside, I really don't find Rep. Omar's remarks to be particularly disturbing. People on the left side of the aisle complain about the power of the NRA and its money all the time. As for dual loyalty, the urging of anti-BDS bills in Congress and across the country, as I described in the third installment in this series, shows the hypocrisy of that charge. If you want to muzzle the First Amendment rights of American citizens to protect a foreign ethno-state, you have divided loyalties.
It all reminds me of a posting on the Twitter account Limericking:
Rep. Omar was under a cloud,
And plans to rebuke her were vowed.
She'd taken a view
That many find true,
But saying it isn't allowed.
Earlier installments in this series have mentioned in particular the anti-BDS statute in Minnesota, passed in 2017. How did a law in Minnesota requiring contractors of goods or services to the state to, in effect, pledge fealty to the state of Israel, come to pass? Well, let's see. The story has resonance on both the "Benjamins" and "dual loyalty" issues.
H.F. 400 had several sponsors in the House in 2017; I think they were all Republicans with a number of evangelicals in the mix. (It had one sponsor in the Senate, Warren Limmer; it was just a tagalong there.) The representative who actually dropped the bill in the hopper in the House, though, was Ron Kresha, the Republican representative from District 9B, around Little Falls. I asked Rep. Kresha where the bill came from, and he said among others, the Jewish Community Relations Council.
The JCRC is a public affairs organization. It is also a lobbying organization. Its website is here. I think it is accurate to say that the principal goal of the JCRC is to remind people about the Holocaust in order to, inter alia, fend off criticism of Israel. The JCRC is a little AIPAC for Minnesota and the Dakotas.
Rep. Kresha told me that the JCRC "supported the bill and testified on its behalf in committee." (Because tracking down and listening to committee testimony is painful beyond imagining, I will take Rep. Kresha at his word on this.)
I asked a lobbyist for the JCRC if it had approached Rep. Kresha (or others) about offering H.F. 400, and whether it had offered a draft bill to the representative. Since similar bill have been offered in numerous states, I am pretty confident it did. We've exchanged messages, but I haven't yet gotten answers to these questions. When I do, I will update the story.
Update 3/15: The lobbyist for the JCRC has not responded to tell me whether it approached Rep. Kresha about offering H.F. 400, or whether it provided a draft bill for the representative. So, draw your own conclusions.
We can see the influence of the "big AIPAC" in Minnesota, too. Eric Zaetsch recites on his blog a dialog between Claire Shipman (apparently on loan from ABC to AIPAC) and Amy Klobuchar on Klobuchar's fawning support of Israel at a 2018 AIPAC conference, including this money exchange:
Claire Shipman: Just a few people. [Referring to the AIPAC crowd, perhaps including streaming listeners to the interview, ed.] Exactly, so many of our friends. You have been a consistent supporter of the U.S.-Israel relationship. Talk about why that issue is so important to you.
Amy Klobuchar: Well, a lot of it, of course, has to do with home. I know we have some great Minnesota AIPAC people and we're excited about that, and it also has a lot to do with Israel's position in the world. This is this democracy, a beacon of democracy in what is a really tough, if not incomparably tough, neighborhood.
And when I talk to people at home, they see it in that way. If they're not Jewish, they see the importance of that friendship. If they are Jewish, they always remind me that we've had not one, not two, not three, but four Jewish senators in the last few decades out of Minnesota [including one you didn't lift a finger to defend, Amy, ed.], and we have a really powerful community despite our very Scandinavian reputation and the fact that four of the five members of the gold-medal winning U.S. curling team were from our state. I would like to bring that up.
(You can read the whole transcript here.)
The last bit is a pretty amazing non sequitur, unless there are a lot of Jewish curlers.
It must be also be noted that Israel is most definitely NOT a democracy, as Sen. Klobuchar says. Even Prime Minister Netanyahu says it's not.
Update 3/13: The magazine Mondoweiss says that Netanyahu undermines Israel's p.r. about being a democracy.
The senator goes on to describe a trip or two she made to Israel. Gee, I wonder who paid for them? I'll betcha Amy didn't.
And I know you will be floored to learn that Klobuchar received substantial contributions from AIPAC sources in the past. She's been quiet on the Rep. Omar flap. The three presidential candidates who have risen to defend Rep. Omar, Sens. Sanders, Warren, and Harris, have received little from AIPAC sources.
I submit, my friends, this is not a coincidence, and it confirms what Rep. Omar is saying.
You must also realize that the efforts of AIPAC and the JCRC to muzzle criticism of Israel by the touting of anti-BDS law around the country – including Minnesota, as I have discussed – are harmful to the First Amendment rights of American citizens for the benefit of a foreign, colonizing, and apartheid state. That sounds like enforcing a dual loyalty to me. I will give you a recent example.
In an earlier installment in this series, I mentioned that Texas had a similar statute to Minn. Stat. sec. 16C.053 and that it was being challenged on First Amendment grounds by the ACLU. The Dallas Observer reports, describing the situation involving one of the plaintiffs:
In August 2018, Texas A&M University-Commerce gave George Hale a choice: 1) Sign a loyalty oath swearing he would never join or support a boycott of Israel, 2) Lose his contract to continue working on an award-winning podcast about unsolved crimes in Texas for the public radio station associated with the university.
Supreme Court decisions have held that the United States cannot require loyalty oaths of citizens to the US. How can it be that one in favor of Israel could be imagined, much less enforced?
The featured image for this story shows a group of Orthodox rabbis at Rep. Omar's office, expressing support for her and emphasizing that Judaism and Zionism are two separate, and to them, antithetical things:
"What she's saying is the voice of Judaism," Rabbi Dovid Feldman told reporters.
Feldman said that to confuse Judaism with Zionism and to accuse someone of being anti-Semitic because they oppose the occupation of Palestine or the oppression of the people "is revolting, unacceptable."
He also issued a statement expressing support for Omar and her stance on Israel.
"No one should be attacked for criticizing AIPAC, certainly not the esteemed Congresswoman Omar. She should be lauded for differentiating between Jews and Zionists," it said. "Judaism is a religion which teaches service of the Almighty, while Zionism attempts to transform Judaism into nationalism."
That's about as good a statement of it as you'll ever hear.
Thanks for your feedback. If we like what you have to say, it may appear in a future post of reader reactions.