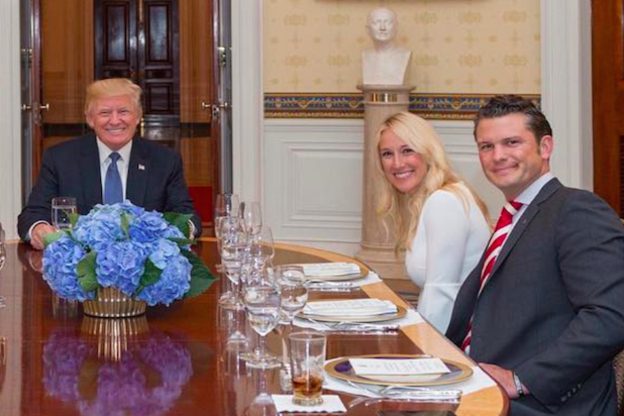 A Minnesota lad keeps plunging deeper into the swamp
Pete Hegseth is from Minnesota. He did high school in Forest Lake. He tried for the Republican nomination for U.S. Senate in 2012, but lost to Kurt Bills. Bills went on to be obliterated, by something like thirty points as I recall, by Sen. Amy Klobuchar in the general. That Amy stomped Kurt, and Kurt beat Pete, means Amy would have stomped Pete, is in fact not a logical certainty, here in practical reality. But it seems extremely likely.
Hegseth has since found his true calling, I guess, as a Fox "News" kook. Trump apparently digs him, and seriously considered him to head the Veterans Administration before backing down in the face of vehement blowback. But here's another gig:
Pete Hegseth, the Fox News personality who urged President Donald Trump to pardon service members charged with war crimes, is trying to influence the White House on another military-related cause.

An Army veteran who talks to Trump periodically and has dined with him at the White House, Hegseth traveled to New Orleans in June to address leaders of for-profit colleges at their annual convention. They are pushing to enroll more veterans, a lucrative class of students — and Hegseth is the face of the colleges' new campaign to defend a favorable carve-out in federal law.

Under the law, for-profit colleges can't receive more than 90% of their revenue from federal education funds. The logic, according to the staffer who drafted the provision, was that the education should be good enough that at least some students are willing to pay. But veterans' benefits, such as GI Bill stipends, don't count as federal education funds (even though they also come from the federal government).

This "90/10 loophole" means that for every veteran enrolled, a school can admit nine more students using federal loans. Veterans advocates and congressional investigators say this loophole leads to predatory and deceptive marketing tactics that sometimes leave veterans with unexpected debt and useless degrees if schools lose their accreditation or go out of business.
(ProPublica)
Here are some bottom-line numbers, nationally:
This century has been a dramatic era for the for-profit higher-education industry. Enrollment at the schools more than quadrupled between 2000 and 2010, from 403,000 to 1.7 million students nationwide. But the sector was bruised and battered during years of clashes with the Obama administration, which sought to rein in abuses such as inflating job-placement rates and using high-pressure sales techniques to induce students to sign up. Trends including a declining pool of 18- to 24-year-olds and an improving labor market also affected enrollment, and the number of students at for-profit schools fell by 47 percent from its 2010 peak to 915,000 in the spring of 2018, according to the National Center for Education Statistics.
(EducationNext)
(I'm sure as hell not implying agreement with what's in much of the rest of that article.)
That is, for-profits have not rebounded under Trump. Quite the contrary. But the industry is still trying, and it will keep trying. Even if it means calling on the likes of Hegseth.
From any rational, non-deluded standpoint, nowhere have the failures of market fundamentalism been more flagrant than in for-profit education. That alone should be enough to destroy any continuing notion of legitimacy for that dogma, though in fact that goes for all of its inevitably disastrous manifestations in practice.
But intellectual bullshit dies hard. Especially where there's money and power to be had. That's unfortunately a basic reality of human existence, and has been at least since the rise of Ur. Though just because it always has been doesn't mean that it always has to be.
Thanks for your feedback. If we like what you have to say, it may appear in a future post of reader reactions.