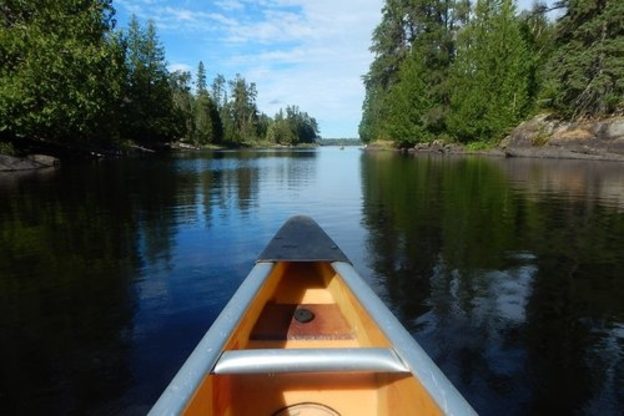 Twin Metals gets slapped back
At least, I hope that's how we can interpret this.
Minnesota environmental regulators have published nearly 800 comments on the Twin Metals plan to build a copper-nickel mine just outside the Boundary Waters Canoe Area Wilderness in northern Minnesota, deeming the company's project proposal "incomplete."

The state Department of Natural Resources (DNR) says it needs the clarifications and extra information before it can start the required environmental impact statement on the proposed mine, one of the most contentious mine projects in the state's history…

Some of the clarifications the DNR has requested are minor, and some points are designated as "future discussion items" not requiring immediate action.

Other comments are substantial.
(Star Tribune)
Actually, as far as the public at large is concerned, the Twin Metals/Antofagasta proposal isn't all that "contentious." A big majority hates it.
To refresh your memory, this looked dead after then-Gov. Mark Dayton publicly, flatly opposed it. Unfortunately, Gov. Tim Walz has not yet followed suit. Walz is very conscious of his public approval. It needs to be brought home to him, what most of the public (including 80% of DFLers, per the poll linked above), thinks of this.
I can't help but idly wonder if Twin Metals would be facing having to deal with "substantial" concerns at this point, if the pretty much open corruption in the PolyMet approval "process" hadn't come to light.
Also, while the following may be paywalled if you don't have free Timberjay views left (or a subscription), read it in full if you can.
But that's mere politics. In the end, mines are about money, and on that score, the prospects for the Twin Metals project look even bleaker. It's noteworthy that Twin Metals issued a mine plan late last year that failed to include any financial projections. The trouble is, any independent financial projection would expose the truth about Twin Metals, and that is, that it cannot operate profitably under anything close to current or even historical prices for copper or nickel.

Let's be blunt — at current metal prices, even PolyMet, a proposed open pit mining operation that obtained its processing facility for pennies on the dollar — can't make a buck. PolyMet's 2018 financials showed a marginal ten-percent return on investment with copper at $3.29 per pound (it's currently at $2.68 per pound) and nickel at $7.95 (currently at $5.68). If an open pit mine can't make it, the prospects for an underground operation, with a substantially higher upfront investment requirement than is the case with PolyMet, is nothing more than pie-in-the-sky.
(The Timberjay)
Comment from Mike: Don't be too sure that Antofagasta/Twin Metals can't turn a profit.
If they have the political clout to get the legislature to gift them millions of taxpayer money at start up (a la Minnesota Wild – $64 million for an ice arena) and at the end just walk away from billions in clean up costs (a la every polluting industry ever) then Antofagasta (not Twin Metals – they are in bankruptcy) might realize a profit.
Thanks for your feedback. If we like what you have to say, it may appear in a future post of reader reactions.