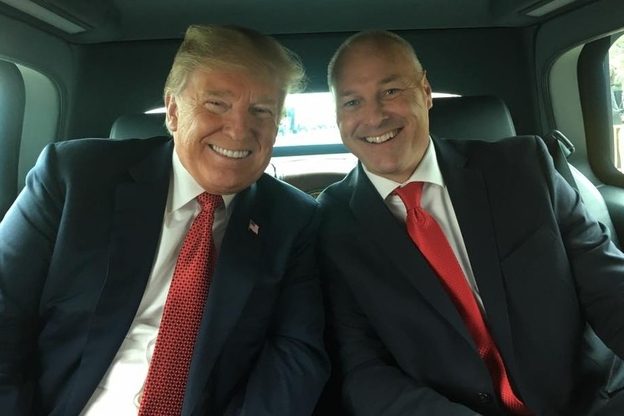 MN-08: Ditching Rep. Stauber, Part 2
Unlike far too many electeds in the Party of Trump, Rep. Pete Stauber (R-MN) has never seemed to be openly stupid or deranged. He knew that he was exposed to COVID-19 transmission, and he must know that one negative test shortly after exposure means nothing.
GOP Reps. Jim Hagedorn, Tom Emmer and Pete Stauber flew with Trump to and from Duluth on Air Force One…

On Friday afternoon, each said they had been tested earlier in the day and the results came back negative.
(MPR)
On Saturday he put this on social media. I'm embedding a retweet, with trenchant commentary.
Does he not need to be self isolating after being with POTUS?! What the hell is the matter with these people?? #StayHome https://t.co/SLkiwvUVy0

— Bennett Smith (@Bennett_R_Smith) October 3, 2020
This is from earlier today. Ditto on the trenchant remarks.
Anyone gonna ask Stauber why he not only boarded a flight on Friday, but held multiple campaign events yesterday & is out duck hunting today when he should be in quarantine for 14 days after having close contact w/Trump as the CDC advises for anyone with known exposure?#mnleg

— Marissa Luna (@rissluna) October 4, 2020
– Note the photo in the first tweet. Not exactly a Woodstock-sized crowd. Is he afraid to cancel even tiny events like this, because he knows he can't afford to risk any votes or dollars? Remember, this seat was supposed to be pretty safe for him.
– Or is he terrified of being seen by the deplorables as a guy who just might be disloyal to Almighty Trump, if he takes this seriously the way he's supposed to?
Maybe both, or maybe he really is just not very bright. In any case, none of this is the "thinking" or behavior we should be seeing, from a member of the U.S. House who deserves to be there, or for that matter from anyone.
Update: I don't normally just pass along DFL press releases, but this one, about three witless ninnies boarding a commercial flight after their exposure, is good.
Thanks for your feedback. If we like what you have to say, it may appear in a future post of reader reactions.