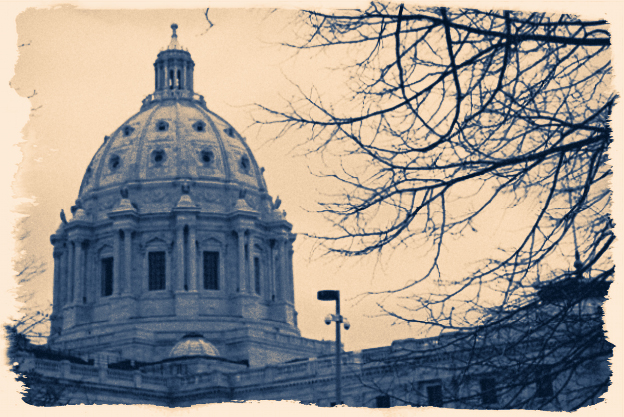 MN lege: Loving these DFL pickup opportunities, Part 3
(Part 1, including "methodology" and sources, here. Part 2 here.)
– SD33: Our candidate is Gretchen Piper.
While we were navigating a complex medical situation, I needed to work closer to home. I started my small business as a strategy and fundraising consultant, advising nonprofits in health care, social services, workforce development, anti-racism, women's empowerment, education and the environment.
Sen. David Osmek has a history. This, for example.
– SD34: Bonnie Westlin is the DFLer. Like many of our candidates, she has previous experience running for the lege. The pre-existing name recognition will inevitably help.
In 2016, I stepped up to run as a first-time candidate for Senate District 34, opposing long-entrenched Republican Warren Limmer. I didn't win that first race, so I went to work meeting constituents, listening to their concerns, and preparing for a rematch this November.
The referenced Sen. Warren Limmer has been there way too long. Ugh.
When the Senate GOP lead on criminal justice issues, Sen. Warren Limmer, R-Maple Grove, expressed his reluctance to limit binding arbitration in police contracts — a key plank of the policing agenda put forward by DFL lawmakers during the Legislature's recently concluded special session — he said it was because it is a problem primarily in Minneapolis, caused by Minneapolis leaders.
(MinnPost)
– HD34A: Our candidate is Brian Raines. He's a Navy veteran and a union construction guy.
Rep. Kristin Robbins is finishing up her first term, and hasn't done anything to speak of.
– SD35: David Nelson is running for the DFL.
Sen. Jim Abeler is one of many in this area who should not be getting reelected as readily as they have been. I haven't given it a lot of thought, but to the extent that I have I have yet to pin down why the north metro has been slower to start dumping conservatism than the rest of the suburbs/exurbs. The people are not intrinsically less intelligent, in my experience. (I lived in Ramsey, north of Anoka, for five years, in the 1990s.) For all I know it has to do with the legacy of settlement patterns going back to the 1800s.
– HD35A: Mike Erickson is the DFL candidate.
John Heinrich is a first-term legislative nonentity, too.
– HD37B: Amir Malik is running again for our side.
Rep. Nolan West is a disgrace.
In fall 2016, after 21 months as a legislative aide, West, then 25, was running for an open seat representing Blaine in the Minnesota House.

That September, City Pages ran a story about West's years-long history of racist and homophobic social media diatribes. There were posts about the Confederacy (loved it), Abe Lincoln ("worst president"), and "fagballs."

On the eve of Barack Obama's 2008 election, he wrote, "IT'S LYNCHING TIME."
(City Pages)
– SD38: Our candidate is Justin Stofferahn.
I currently work for the BlueGreen Alliance working to develop federal policies that create more sustainable infrastructure and create good American jobs.

Prior to this work, I spent most of my career around the Capitol working to level the playing field for Minnesotans. At the Minnesota Department of Revenue, I worked to close corporate loopholes and create a simpler, fairer tax code. Working on behalf of communities across Greater Minnesota, I helped secure investments in infrastructure, transportation and public safety.
If you ever happen to catch any of the political talk shows on TPT, there's a good chance you've seen the obnoxiously smug know-it-all, Sen. Roger Chamberlain, doing his thing. Enough is enough, as far as having to put up with that guy.
– HD38A: Party of Trump Rep. Linda Runbeck announced her retirement, so this seat is open and a ripe plum indeed. Kris Fredrick is running for our side.
In his spare time, he continues to offer pro bono legal services in conjunction with The Advocates for Human Rights, representing low-income immigrants who have been abused or are in fear for their life.
For what it's worth, the Republican is Donald Raleigh.
– SD39: Josiah Hill is the DFLer. He teaches both high school and college. Righteous!
Sen. Karin Housley achieved statewide notoriety, of a sort, with her utterly ineffectual 2018 run for U.S. Senate.
– HD39A: Ann Mozey is a family law attorney.
For a guy who's had seven terms Bob Dettmer hasn't done much. What's the point of keeping him in the lege?
Thanks for your feedback. If we like what you have to say, it may appear in a future post of reader reactions.