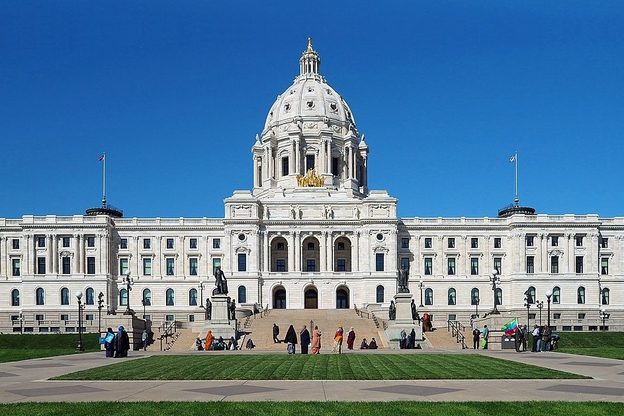 MN lege: Loving these DFL pickup opportunities, Part 1
This is all based on our elections guru's hPVI ratings: MN House here, MN Senate here.
As far as how I'm choosing which races to include in these, national generic ballot polling has typically been giving Democrats a 7-9 point lead. (That's been the case pretty much ever since Trump took office, and it certainly manifested in the 2018 blue wave.) So on the face of it, any district, MN House or Senate, that is R+7-9 or less, should be readily gettable. In reality things are more complicated, and I see no reason not to add some reaches beyond that, and to maybe be a little more skeptical in some other cases. Especially where there is a long-time GOP incumbent who has just seemed impossible to give the boot, regardless of how great that would be.
I'm getting candidate names from the Secretary of State website, Senate here, House here.
Here is the best statewide map of districts that I know of. You do have to peer pretty closely, at first, to pick out the numbers, though my experience has been that you kind of get the hang of it soon enough.
– SD5: Our candidate, Rita Albrecht, is currently the mayor of Bemidji. She has plenty of political experience.
The incumbent is Sen. Justin Eichorn.
Now, you may be wondering to yourself: "Did he just compare being homeless and living in a tent on the side of the road to… camping? Like, for fun? Because surely those are not two things a reasonable human being would equate in order to make a point."

Reader? He did.
(City Pages)
This race also has a candidate from each of the marijuana legalization parties. Whether such candidates are sincere, or GOP trolls, I blogged about why nobody who is serious about marijuana legalization in Minnesota should vote for any of them, instead of DFLers, here.
– HD5B: Our candidate is Joe Abeyta. He's a union person and on the LaPrairie City Council.
The incumbent, Rep. Sandy Layman, is leaving. Spencer Igo wants you to "'Go' for Igo." (As a general rule I will not trouble to link GOP candidates' websites. Why would I?)
– SD11: Unlike far too many DFLers in northern Minnesota, Michelle Lee has been openly skeptical of sulfide mining. Her current position on that issue, and others, is summarized here.
As will often be the case, I don't have much to type about the Party of Trump incumbent, in this case Sen. Jason Rarick, because there isn't anything really worth typing. He's a cipher.
– SD14: Aric Putnam has been a teacher for 25+ years. That is so cool.
Sen. Jerry Relph is a cipher, too.
– HD14A: Tami Calhoun is a retired music teacher in St. Cloud.
Rep. Tama Theis's record has included an occasional "moderate" position/vote. She's still a Party of Trumper, and that should be about all that any voter needs to know.
– SD20: Jon Olson was in the U.S. Navy for 21 years, not counting his time at the Academy. He has also taught college courses.
Sen. Rich Draheim is a cipher, three.
– SD21: Ralph Kaehler is a farmer who also started a successful solar energy firm.
As a politics junkie it's rare for me to encounter the name of a sitting Minnesota legislator of whom I've never seen a word about, in any context (obviously until just now, that is). Sen. Mike Goggin is such a person.
– HD21A: Matt Bruns is yet another teacher looking to do good things for education, and much else, in the legislature.
The incumbent is Rep. Barb Haley. Sorry, that's all I got, despite scanning the first six (6) pages of a Google search.
– HD21B: Elise Diesslin is on the city council in Elgin.
If you're into this to the point that you're still reading, you don't need me to tell you about Rep. Steve Drazkowski. I suppose that it's his bigotry that I personally find most revolting, closely followed by his just general assholery. A disgrace to the Minnesota legislature from the day he got there.
Comment from Mac Hall: If you can judge concern that a Republican seat could be taken, just look at Senate District 23 (vast farmland from Blue Earth to Mankato) where Julie Rosen has purchased billboard space proclaiming that she is running for re-election. Admittedly, her past races have forced her to confront some heady challengers but she has barely eked out victories getting only 68% to 71% of the vote in the past three cycles … not nearly as strong as her 2010 contest when she won with only 98.1% of the vote.
She'll need the billboard exposure … 'cause her only challenger is David Pulkrabek of the Legal Marijuana Now Party … yep, the DFL didn't even field a candidate knowing how strong the Legal Marijuana party is growing.
Comment from Mac Hall: OK … now the serious question … is Ralph Kaehler the same Ralph Kaehler that meet with Cuban President Fidel Castro when Governor Jesse Ventura led a delegation of U.S. Food and Agribusiness to Havana in 2002 ?
He would be a great addition to the legislature … sadly, I am not in his district.
Comment from Mac Hall: Call me crazy, but one marker that I go by is the presence of lawn signs … especially in areas where you don't expect them based on past elections. I saw it in Jesse Ventura and Tim Walz initial victories. Well, yesterday we took a day trip to New Ulm and saw what I expected to see … huge signs for Trump and Hagedorn (heck, there was one that had Lewis and Trump together giving the Thumbs Up sign).
But then as we started to walk around the city streets, we noticed a consistent presence of Mindy Kimmel signs … in all the years that we have made the Octoberfest trek to New Ulm, we have never seen so many signs for a DFL challenger. The district is heavily GOP, but if there may be something brewing for an upset in HD16B.
Thanks for your feedback. If we like what you have to say, it may appear in a future post of reader reactions.