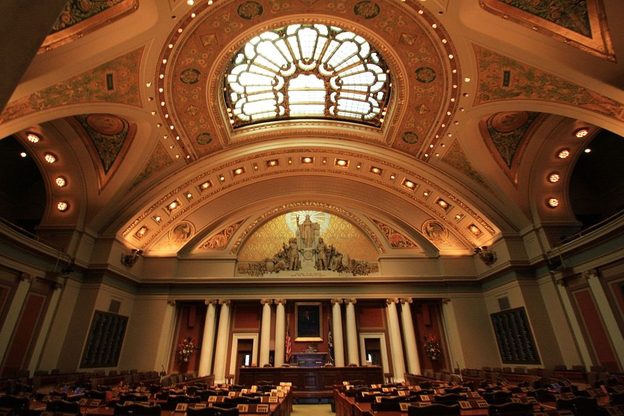 MN lege: Loving these DFL pickup opportunities, Part 4
(Part 1, which includes my "methodology" and sources, here. Part 2 here. Part 3 here.)
– SD44: Ann Johnson Stewart is our candidate.
By trade, I'm a civil engineer. I started my own engineering business in my basement over two decades ago, which has grown into a flourishing enterprise with 31 employees…

I'm also a teacher. For over 20 years, I've taught at the University of Minnesota-Twin Cities and local technical colleges, and have created curriculum and taught classes to maintenance workers, engineers, tradespeople, and managers.
Sen. Paul Anderson is leaving. That this district went to D+10 in the last election probably has a lot to do with that. The Party of Trumper in this election is Greg Pulles.
– SD47: The DFLer is Addie Miller. She's currently a Committee Administrator for the MN House.
COVID misinformer Sen. Scott Jensen is leaving. The GOPer is Julia Coleman.
– HD47B: Dan Kessler is running for our side.
Rep. Greg Boe is finishing up his first, and hopefully only, term. He hasn't done anything as a legislator.
– HD54B: Kelsey Waits is our candidate.
On the School Board, Kelsey has advocated for more equitable schools, environmentally friendly practices, and financial responsibility.
Rep. Tony Jurgens has had two terms. I suppose this could be seen as his most notable "accomplishment:"
State representative Tony Jurgens, R-Cottage Grove, was called out for "aggressive, inappropriate behavior following a vote on the House floor on April 29, 2019" in a protest and dissent letter signed by a long list of his DFL colleagues.
(Bluestem Prairie)
– SD55: Sahra Odowa is the DFLer.
I am a first-generation Somali-American, born in the Bronx, New York to parents who immigrated to the United States in the early 1980s…

My career has been in the mental health field, and I currently work as a Disability Case Manager with diverse populations.
Sen. Eric Pratt is finishing his second term. Not a lot to show for it, that I could find. And I did look.
– SD56: Our candidate is Lindsey Port.
Earlier this month I crossed part of the south metro on 13, and saw a few signs for Sen. Dan Hall. Certainly everyone has the right to express opinions, however uninformed, irrational, and self-defeating. But what I was thinking was, talk about pissing into the wind.
– HD58A: Erin Preese is the DFLer. She's an elementary school teacher in Lakeville.
The incumbent is Rep. Jon Koznick. He recently screwed up in an embarrassing, public way.
– HD58B: Sara Wolf is our candidate.
I suppose this district is a reach. But, first, this is shaping up to be a good year for our candidates in such districts. And second, Rep. Pat Garafalo is my perennial pick as Minnesota's Most Obnoxious Legislator. He's prone to (figuratively) running his mouth, with very little in the way of forethought, judgment, or class, on social media and elsewhere.
Thanks for your feedback. If we like what you have to say, it may appear in a future post of reader reactions.