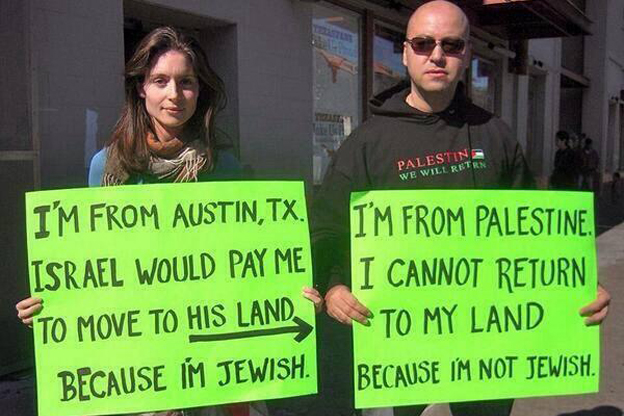 Gaza: The Final Solution – a reprise
This is a story from July, 19, 2014. There was a part two, part three, and a part four to the story. I think it has some currency at the moment. (Regrettably, the original @billmon1 is gone. Someone else has the account now.)
§ § §
I write very little about international, or even national, matters. A lot of other people do, and do it better than I could. But the present of invasion of Gaza by the Israeli "Defense Forces" cries out for comment, even if it is merely cathartic for me. I hope it is more than that, of course.
A couple of days ago, in a justification of the invasion by Israel, the Strib editorial board drew itself to its full height and opined that Israel "has the right to defend itself": Hamas cynicism is the biggest threat to Gaza. Hardly.
The editorialists are merely repeating the lazy American media line.
One of the best sources of information on the situation in Israel/Gaza, and current Israeli thinking about it, can be be found in the Twitter feed of @billmon1. Billmon is the pseudonym of someone who used to write the excellent blog Whiskey Bar. I commend him to the Strib; if the editorialists read some of the links that Billmon offers up, perhaps they wouldn't simply and ignorantly parrot bilious Israeli propaganda. I commend Billmon to the rest of you, too, as a way to read some sources that don't just drink from the Israeli cup.
So let's look through some things the editorial board may have missed.
"We must depopulate Gaza of Palestinians and repopulate the land with Jews." That's not just some crackpot in Israel; that's the Deputy Speaker of the Knesset. Here's part of what he said:
Israel must attack Gaza even more mercilessly, expel the population and resettle the territory with Jews, the deputy speaker of Israel's parliament, the Knesset, has said.

Moshe Feiglin, a member of Prime Minister Benjamin Netanyahu's ruling Likud Party, makes the call in an article for the Israeli news website Arutz Sheva.

Feiglin demands that Israel launch attacks "throughout Gaza with the IDF's [Israeli army's] maximum force (and not a tiny fraction of it) with all the conventional means at its disposal."

Force Gaza population out

"After the IDF completes the 'softening' of the targets with its firepower, the IDF will conquer the entire Gaza, using all the means necessary to minimize any harm to our soldiers, with no other considerations," Feiglin writes in one of several calls for outright war crimes.

Following the reconquest, Israel's army "will thoroughly eliminate all armed enemies from Gaza. The enemy population that is innocent of wrongdoing and separated itself from the armed terrorists will be treated in accordance with international law and will be allowed to leave," Feiglin writes.

"Gaza is part of our land"

"Gaza is part of our Land and we will remain there forever," Feiglin concludes. "Subsequent to the elimination of terror from Gaza, it will become part of sovereign Israel and will be populated by Jews. This will also serve to ease the housing crisis in Israel."
Naturally, "allowing" a native population to leave is not according to international law; there is another name for it: ethnic cleansing. But the really formal name for it is genocide. It's an international crime against humanity.
But, oh, this can't be right, you say. But Feiglin penned an op-ed saying these things. Feiglin believes that the Hebrews got the deed in the Old Testament, when they were authorized to kill and displace the Canaanites and the other "ites" to take over the place.
It's the same kind of thinking that got a bunch of Pequot Indians massacred by the Pilgrims. Ronald Reagan's shining city on a hill was just an Indian funeral pyre.
Feiglin's exterminationist attitude is common in Israel. Here's a photo of a couple of Israeli youngsters: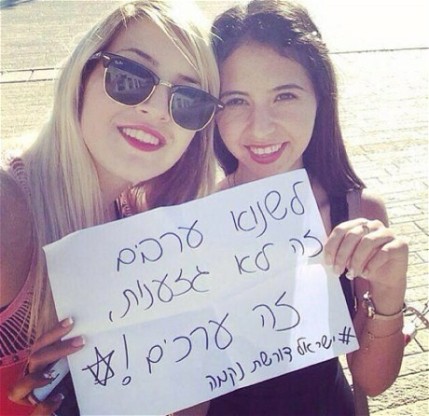 In case your Hebrew is rusty, the sign says "Hating Arabs is not racism, it's values." But the manicures are nice.
Antecedents of the present invasion
Israel claims that it was provoked and is entitled to exact revenge on the civilian population of Gaza because of the kidnapping and murder of three young settlers (perhaps, as is reported, illegal squatters), at least one with dual American and Israeli citizenship, on the West Bank.
Israel blames Hamas, which does not control the West Bank, by the way; Hamas has disclaimed responsibility, which it ordinarily isn't reticent to do.
Evidently, Israel's Shin Bet knew almost immediately after the kidnapping that the three were dead. But Prime Minister Netanyahu chose not to disclose that fact, but rather, in the words of Max Blumenthal:
From the moment three Israeli teens were reported missing last month, Israeli Prime Minister Benjamin Netanyahu and the country's military-intelligence apparatus suppressed the flow of information to the general public. Through a toxic blend of propaganda, subterfuge and incitement, they inflamed a precarious situation, manipulating Israelis into supporting their agenda until they made an utterly avoidable nightmare inevitable.
They made it inevitable because that's what they wanted.
And let's be candid; Palestinian teenagers are killed every week by, among others, the Israeli army:
Israeli forces shot and killed two Palestinians during a demonstration [of the Nakba] near Israel's Ofer military prison west of Ramallah. Palestinian media reports that the victims are 22-year-old Muhammad Audah Abu al-Thahir from the village of Abu Shukheidim and 17-year-old Nadim Siyam Nuwarah from al-Mazraa al-Qibliyya village, both in Ramallah district. Reports conflict as to whether the victims were shot by live ammunition or rubber-coated steel bullets.
In revenge for the murder of three settlers, a Palestinian teenage boy was abducted and burned alive near Jerusalem. Oh, and his cousin, an American citizen who was visiting family during Ramadan, was detained and beaten by Israeli police.
Arrests have been made in the death of the murdered Palestinian boy. Hundreds have been killed in Gaza; watching the carnage is a spectator sport in Israel.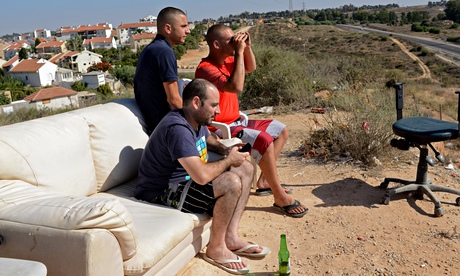 Collective punishment
Prime Minister Netanyahu, speaking at the funerals of the three settlers, vowed their deaths would be avenged:
A short time later — after the burials of Eyal Yifrach, 19; Gilad Shaar, 16; and Naftali Frankel, a 16-year-old dual U.S.-Israeli citizen, by [next to] each other in Modiin — the Prime Minister spoke again about the three before a security cabinet meeting, saying, "May God avenge their blood."
Bibi didn't wait around for God to do it. And when you take your revenge on a civilian population, it's called collective punishment; that's a war crime. Israel's actions have been called as much by Nick Clegg, the Deputy Prime Minister of the United Kingdom.
This is all part of a plan by the Israeli government and the settlers and the squatters to clear all the Palestinians from Gaza, and ultimately the West Bank. I call it genocide on the installment plan.
As I will write later, I am not the only one who thinks so.
Update:
In private, John Kerry expresses disgust with Israel's ongoing Gaza slaughter – the one he's been enabling in public http://t.co/r9nyRCvVxA

— Max Blumenthal (@MaxBlumenthal) July 20, 2014
Further Update (7/30/14):
Bombing the Gaza Strip into the Stone Age and incinerating its only source of electricity for, including, hospitals and sanitation is genocide.
Update to the reprise, 5/16:
You might want to check out Max Blumenthal and Dan Cohen's 2014 film, Killing Gaza.
Thanks for your feedback. If we like what you have to say, it may appear in a future post of reader reactions.