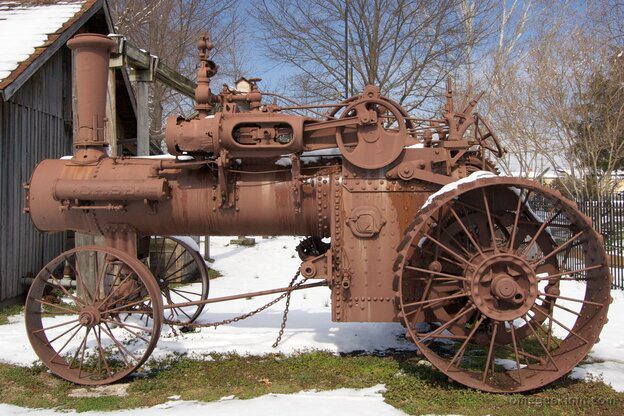 The outlook for Minnesota farmers is…muddled
It's common knowledge among intelligent people that 90+ percent of financial media in this country is just greedheads' propaganda, of one sort or another. The same goes for farm media and Big Ag. Which can make it a challenge to find good stuff to riff off of, when I want to blog about farm issues. But that's my problem.
The current consensus, more or less, in farm media is that the outlook is indeed uncertain. A recent survey shows farmers thinking the same thing.
The Purdue University/CME Group Ag Economy Barometer farmer sentiment index rose 6 points in July to a reading of 103. Producers were somewhat more optimistic about both current and future economic conditions on their farms when compared to June. The Index of Current Conditions rose 10 points to a reading of 109, and the Index of Future Expectations rose 4 points to a reading of 100. Although all three indices rose this month, they were still 23% to 24% lower than a year earlier. The Ag Economy Barometer is calculated each month from 400 U.S. agricultural producers' responses to a telephone survey. This month's survey was conducted July 11-15.

"Even though we saw a slight uptick in sentiment this month, there is still a tremendous amount of uncertainty in the agricultural economy," said James Mintert, the barometer's principal investigator and director of Purdue University's Center for Commercial Agriculture. "Key commodity prices, including wheat, corn and soybeans, all weakened during the month and producers remain concerned over rising input prices and input availability."
(Purdue University/CME Group)
Previous heavily inflated prices for corn, soybeans, etc., took a dive in July.
(Speaking of commodities and politics, hopefully I'm wrong, but I have this recurring premonition that Big Oil will jack gas prices way up again in October to try to create a red wave after all. Collusion and market manipulation on that scale are supposed to be serious crimes, that draw prompt and severe responses from law enforcement, but that hasn't been happening.)
Who knows, when the U.S. harvest really hits, and the election's over and there's no longer so much motivation to maintain high inflation in order to help create divided federal governance, whether Big Processing, Big Meat, etc., will decide that they're willing to keep paying even prices off their highs for commodities. Or if they'll let it be known that they expect them to come down further, lest more people use the current gouging as motivation to develop less expensive, and healthier, eating habits. Starting with, just a little less of everything. It most certainly is not in Big Processing's interests to have any of that happen.
I could go on and on about what should change about U.S. agriculture. Many people who are better writers than I am are doing so. For example, ridiculous dairy overproduction and what that (along with so much else ag-related) means for climate change. But the bottom line is that a system in which what's good for farmers is bad for consumers, and vice versa, is obviously not the best that we can do, sweet though it is for Big Ag. Much stricter regulation of commodities speculation – indeed, outlawing the antics of speculating parasites, entirely – would be a good place to start.
A couple of things to end with:
– Rather interesting, someone claims to have come up with a way to hack John Deere tractors so farmers can do their own repairs (Gizmodo).
– As good a quick exposition as I've seen: "What the Historic Climate Bill Means for Farmers and the Food System" (Civil Eats).
Thanks for your feedback. If we like what you have to say, it may appear in a future post of reader reactions.