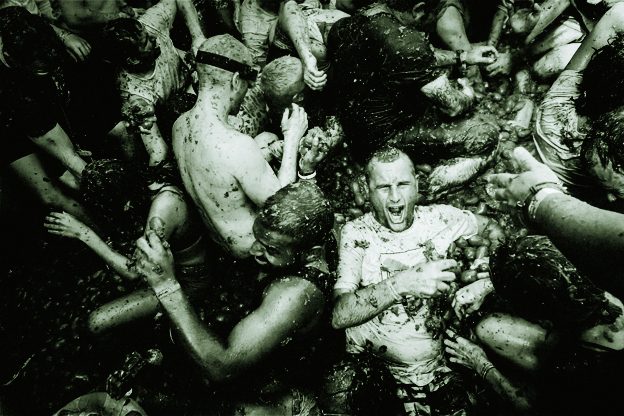 The Great Literacy Food Fight III
Here's the first story, and here's the second one, in the series. I wrote another story about flogging phonics, too. This is the best one, though.
There was a hearing in the Senate Education Policy Committee on Wednesday, March 15th about one of the phonics bills, SF1273. (A new bill was substituted, but as of March 17th, it hadn't appeared on the Revisor's page for the bill yet.) Here's a clip of the hearing, courtesy of Rob Levine, an occasional contributor here.
Here's a mashup clip Rob made of the hearing that gives you a really good sense of it. You want to watch it, believe me. Rob's mashup makes me laugh out loud, every time I watch.
You would almost think, wouldn't you, that the hearing was about the "science of reading," a tagline slogan of Lexia Learning to describe its phonics program LETRS®? You'd be right if you thought that. In fact, one of the testifiers let LETRS® slip into her presentation. If you watch Rob's mashup version, you will hear it go by.
Some people, including literacy experts and educators, think the explicit — or even implicit — flogging of a commercial program for adoption statewide is inappropriate, for several reasons.
1. It's the usurpation of district autonomy to choose vendors, even if a district has vendors and literacy programs it is happy with (and which include phonics components) and produce results in that particular district. The "Read Act," as it is known, would require districts to throw it all out and implement the state mandated phonics-heavy program. [Update: Including in general ed classrooms.] This is the whole idea, really. Here's the chief author of the Read Act in the House, Heather Edelson, in a recent constituent letter:
She makes no bones about the fact this bill is a revolutionary act.
2. There is ambiguity — perhaps strategic ambiguity — in the bill. Its original version, as Rep. Edelson writes, is "based off of structured literacy or science of reading." And the "science of reading" was referred to specifically as a requirement multiple times in that as-introduced draft. Later, that language was changed to "science of reading or evidence-based literacy." This could mean at least a couple of things:
"The science of reading, which means evidence-based literacy." A definition.
"The science of reading, or other evidence-based literacy." A choice.
There was some confusion about that at the hearing, including on the part of committee member Senator Duckworth. I don't think he ever got a satisfying explanation. One of the bill author's testifiers at the hearing, from Education Minnesota, said — paraphrasing now — "The science of reading is evidence based, and evidence-based literacy is the science of reading." A charming tautology. That's clearly on the definition side. It makes a potentially big difference.
3. Under the Read Act, the Department of Education must to select the vendor or vendors (?) who meet the Legislature's mandate. In the first version of the bill, the MDE was supposed to do that by June 30, 2023; I think that's still true. If it must choose the vendor with the tagline slogan "science of reading," well, the game's over: it's Lexia Learning and LETRS®.
Even if the MDE has a choice, is it a practical choice with the deadline? What chance do other competing vendors, or school districts who like something else, have to make a pitch and be considered before the deadline June 30th? Not much.
4. What if there is an manager or two at MDE who pant with desire for LETRS®, which may be the case, and refuse to consider anybody else, even if that is what the statute permits? The statute doesn't provide for any appeal or recourse.
It would be possible, I suppose, to file a lawsuit or bring a case in the Office of Administrative Hearings. But what district, especially a smaller one, could afford to do that? Would a competing vendor have standing to bring suit? At all events, it would be a tough case to win.
5. The bill doesn't plan beyond the next biennium. In the last form of the bill I saw, anyway, it calls for $60 million in appropriations, for the biennium that begins July 1st, divided between teacher training and materials. In places where LETRS® has been implemented, Lexia provides both.
The bill also mandates a literacy staff person, and continuing training and use of materials beyond the biennium; the project has an expensive tail, with no guarantee it will be covered by the Legislature. If it isn't, it'll have to come out of per-pupil funds or property taxes.
On top of fees to Lexia, or possibly but not probably another vendor, teachers will have to be paid for the training, but it appears they have to do it on their own time, unless they're able to bargain for it.
In summary: it's another mandate on time- and cash-strapped schools.
At the hearing, Peter Hutchinson, a critic of public schools, urged the committee to "go big" on the program, setting up a potential school district budget bust in two years. Frankly, I wondered if that's what he wants.
– o O o –
It is difficult to be heard in opposition to the Read Act. I made a serious, frustrating and unsuccessful attempt to get just ten minutes before the committee, not for me, but for a nationally-recognized and published literacy expert with reservations about the bill.
It seems there is a lot limiting public testimony going around.
.@richneumeister: Limiting public testimony is a thread going through both House and Senate. https://t.co/SHuchKMo2C

— Hal Davis (@haldavis3) March 18, 2023
Update: Reader Dan McGuire observed that if LETRS® was so important and forward looking, it is curious that the bill doesn't require training of teachers in school before entering the profession. That's right, but I think the answer is that LETRS® training is proprietary; Lexia Learning wants to train the teachers to make the money from it. It wants all the taxpayer revenue injected directly into its veins.
It's another example of why the bill is not forward looking.
Thanks for your feedback. If we like what you have to say, it may appear in a future post of reader reactions.