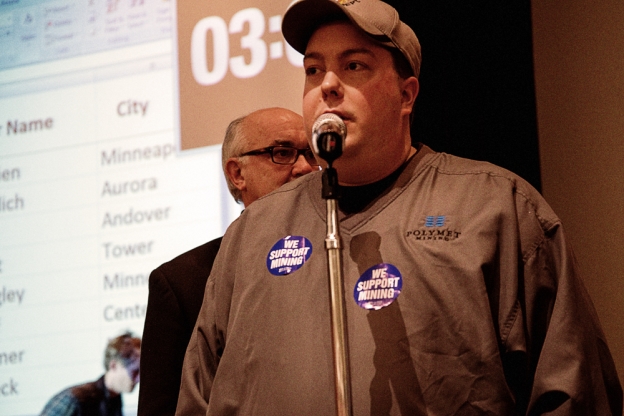 The great DNR tent revival show
Came to RiverCentre on January 28th
On a cold night in St. Paul, the chairs were filled and people stood around the periphery of the auditorium to listen, and to participate, in the final public hearing on the PolyMet proposal to dig an open pit sulfide mine in northern Minnesota. As the Strib reports, about 2,000 persons were in attendance and appeared roughly split between supporters and opponents of the mine. (Doug Belden of the Pioneer Press says 1,500, but either way, a lot of people.) Update: The DNR says more than 2,000.
One of the things that was curious to me is the number of ringers for the pro-mining side. Many times, someone who had won the comment lottery on the pro-mining side yielded his or her time to a Range politician or labor leader who read a prepared statement.
The anti-mining forces, on the other hand, tended to be represented by persons like Hope Flanagan, a Native American, who spoke movingly about clean water's role in human existence.
Or this fellow, whose name I didn't catch, who observed that the mine would be owned by interests from outside Minnesota, and that the benefits of the mine largely wouldn't accrue to Minnesota. (And the copper will apparently be exported from the U.S.)
"Trust the regulators;" "This is sound science," and "This has never been done safely before," echoed across the hall all evening.
But "trust the regulators" seems especially hollow after the discovery that the basic science behind the Minnesota DNR's consideration of PolyMet's proposal is deeply flawed, almost naked of data on the most critical issue, and spokesters for the agency have tried to blow it off as "not a deal breaker at all."
But really, it seems that the SEIS should not be a deal maker at all.
And where did the "trust the regulators" mantra come from? How is it that the pro-mining people are so purringly confident that the decision will go their way? Could it be statements referring to bad science as "not a deal breaker at all?"
Thanks for your feedback. If we like what you have to say, it may appear in a future post of reader reactions.