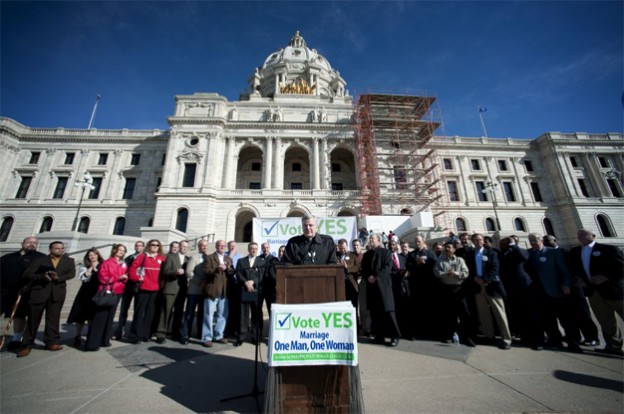 John Nienstedt drinks deep from the Chalice of Hate
Then wipes his lips on his velvet sleeve
The Star Tribune profiled Catholic archbishop John Nienstedt on Sunday; it gives one a flavor of the utter ruthlessness of the man in pursuing the gay marriage ban amendment. Burning parishoners, burning prients, and burning church money: none of it is a problem for Nienstedt.
The archbishop is a the person who helped bring in California's Frank "Have Hate Will Travel" Schubert in to head the Minnesota for Marriage Campaign.
There are a couple of grafs from the article that really caught my eye:
Undeterred by the criticism [from within the Catholic community], Nienstedt has raised the stakes. To a mother who pleaded for acceptance for her gay child, he wrote: "I urge you to reconsider the position that you expressed. … Your eternal salvation may well depend upon a conversation of heart on this topic." [emphasis added]

To clergy, he issued orders that no "open dissension" would be allowed. He wrote one outspoken priest, the Rev. Mike Tegeder, that if he persisted, "I will … remove you from your ministerial assignments."

"He silenced his priests under the order of obedience," said Ed Flahavan, a member of Former Priests for Marriage Equality, a group that went public in May with the names of 80 former Minnesota Catholic priests against the amendment. "It's the first time in my experience or knowledge that kind of blanket order has been given" in this archdiocese.
Urging a mother to reject her son for simply being who he is: can you believe it? And holding the threat of eternal damnation over the mother's head? I don't have a printable vocabulary to describe it properly.
Well, some people do believe it. Professor Mark Osler, who was our guest on the most recent LeftMN Radio Hour, and who is opposed to the amendment, recounts just one such story, of a man who rejected his dying son because he was gay. Professor Osler is a professor of law at St. Thomas University Law School who wrote an article for CNN that drew that comment.
Nienstedt thinks about sex more often than anybody I know, gay or straight, except maybe teenagers.
When some unctuous, sanctimonious preacher plays the "soul card" on you, friends, it is time to put on not only your skeptic's hat, but your walking shoes as well.
And to the mother with the gay son: love him openly and with all you heart; the archbishop doesn't know shit from shinola about the love of God. There are a lot of theologians who agree with me, but they won't be so blunt.
Update: At least one local theologian weighs in on my side of the argument.
Thanks for your feedback. If we like what you have to say, it may appear in a future post of reader reactions.