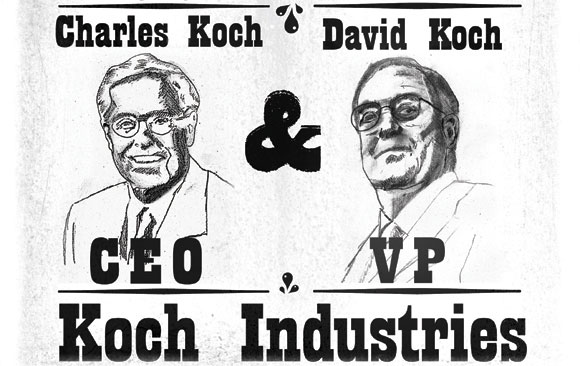 Koch Brothers's local election spending reaches absurd apogee
What interest do the Koch Brothers have in the race for the mayor of Lakeville?
Over the weekend, a blizzard of campaign literature blew across the landscape, some from candidates, but many from outside groups attempting to influence the election. These groups are not trying to influence the election, they are trying to influence many specific elections, large and small. But the record for big, dark money targeting a small local race in Minnesota has to go to Americans for Prosperity's (AFP) attack mailer targeting Lakeville councilman Matt Little in his run for Mayor.
Matt Little has been a breath of fresh air on the Lakeville City Council. In one of his first acts in office, he offered to give back half of his salary to help preserve a police department position that was on the chopping block. The current mayor, Mark Bellows, cast the deciding vote that blocked Little from donating half of his salary to save the job. You read that right – a politician offered to cut his own salary to save a public safety job and was blocked from doing so. Obviously, this Little guy is a menace!
Little sent the image of the mailer in an email on Sunday morning: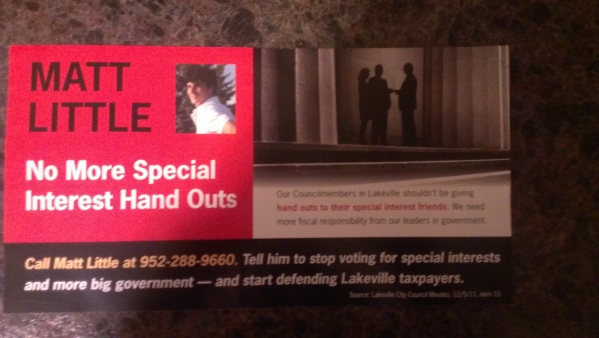 If you don't already know, AFP is one of the biggest and most well-funded Republican dark money groups, co-founded by the Koch Brothers. In Minnesota, with a Republican Party in total disarray, AFP has become even more important for Republican hopes. They are sponsoring the phone banks and mailings that in the past would have been the purview of the party itself.
So, what attracted the gaze of Sauron to Lakeville? What "special interest friends" are Little protecting?
As Little notes, the only reference in the ad is to a vote he cast to preserve a part-time electrical inspector job for the city. The council voted in December 2011 to outsource electrical inspections to a contractor to supposedly save a bit of money. Of course, this came at a cost – a loss of permit revenues that now go directly to the contract inspector, and increased wait times for residents who need an inspection. Here's what Little said to Lakeville Patch about it:
The vote was not unanimous, and was strongly opposed by Council member Matt Little.

"I'm adamantly opposed to contracting this out," he said. "There's no such thing as free money. We're firing an experienced employee that is an asset to our community, that's invested in our community, and that's something we should keep."
Of course, the Koch Brothers don't see it that way. I tweeted at AFP-Minnesota and here's how they characterized it:
@aaronklemz Matt Little voted against a move to save taxpayers money to protect an unnecessary union job.

— AFP Minnesota (@ProsperityMN) November 4, 2012
Has it really come to this? The Koch Brothers dark money group is now jumping into local races over a single part-time "union job?"
Little has been a conscientious and effective council member, fighting for seniors in his successful fight to build the Lakeville Heritage Center, preserving public services even at the cost of his own salary, and keeping property taxes low by opposing the sale of Lakeville's profitable municipal liquor stores. That last item is probably the one that really attracted AFP's attention, as they've pushed for the end of municipal liquor stores elsewhere.
The citizens of Lakeville will have to decide for themselves who will best lead their city. The takeaway for all of us is that in a post-Citizens United world, every election, no matter how local and non-partisan, is a potential target for dark money groups.
Thanks for your feedback. If we like what you have to say, it may appear in a future post of reader reactions.