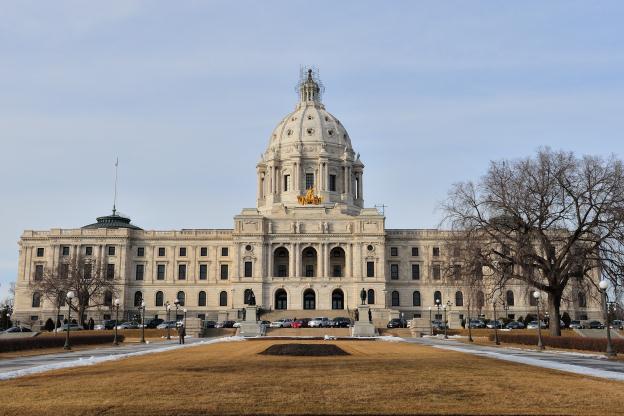 With 2012 in the books, a look at some 2014 battlegrounds
After two years in the minority in both chambers of the Minnesota Legislature, the Democratic Farmer-Labor party is now back in charge.
Prior to Tuesdays election, and until the new legislature is actually sworn in, the GOP controlled the Senate 37-30 and the House 72-62. Come January the DFL will have a 39-28 Senate majority and a 73-61 House majority, that is if nothing changes between now and then.
The Minnesota Senate is not up for re-election until 2016, so Tom Bakk's majority is safe for four years. The Minnesota House however is up for re-election in two years and without the uncertainty of redistricting hanging over the process, potential candidates can begin laying the groundwork for campaigns immediately.
With that in mind I'm going to take an early look at the 2014 battlegrounds in the Minnesota House with a list of the five closest seats the GOP won and the five closest seats the DFL won.
To begin though, there's a race that can't yet be classified as either a Democratic pickup opportunity or a Republican pickup opportunity (the number in parenthesis is the amount of votes the district was won by).
8B – Mary Franson/Bob Cunniff (1)
This district is going to be one of the top battlegrounds no matter who emerges from the recount a victor. In my race ratings I had this one rated as Likely GOP, and given it's hPVI (R+10), there is really no reason it should have been this close. But there is a reason that it's this close, and that reason is Rep. Mary Franson.
If Franson prevails in the recount she will remain a vulnerable incumbent. If Cunniff prevails he will be occupying the most Republican district of any Democrat in the house. Either way, this seat will be targeted by both parties.
Top Five Democratic Pickup Opportunities
1B – Debra Kiel (713)
The partisan fundamentals of this district are more favorable to Democrats than any of the other seats on this entire list (R+1). And despite that Rep. Kiel won by a four point margin. She did a much better job of fundraising then her opponent Marc DeMers and she was running as an incumbent.
But given the favorable partisan lean, it's hard not see this district getting targeted yet again in 2014.
44A – Sarah Anderson (607)
This race was a toss-up in my race ratings, but just barely. It's a district that should favor Republicans (R+6) and Rep. Anderson is an incumbent. That said, Audrey Britton, the DFL nominee, raised more money and was able to make the race competitive.
Rep. Anderson's name has already been floated for higher office, and if she does try and move up this district would be an even more enticing to target for Democrats than it already will be.
36A – Mark Uglem (456)
This is another district with a Republican lean (R+7) that nonetheless the DFL made competitive this cycle. There was no incumbent running, making it an open seat, and the DFL candidate, Grace Baltich, did a bit better in fundraising than eventual winner Mark Uglem.
32B – Bob Barrett (393)
Like 8B, I had this race rated as Likely GOP and yet incumbent Rep. Bob Barrett barely pulled it out. He seemingly had everything on his side; an R+10 district, a fundraising advantage and incumbency. And with all of that going for him he only pulled out a 400 vote win.
He was running against former State Senator Rick Olseen though. As with 8B, candidate quality, in this case a good DFL candidate, is likely the reason for the closeness of the race.
2B – Steve Green (383)
This race also featured a former legislator, three term Representative Brita Sailer, running for a GOP leaning (R+7) open seat. The eventual winner, Republican Steve Green, got out-raised by Sailer, but she came just shy of winning.
Top Five Republican Pickup Opportunities
11B – Tim Faust (588)
10B – Joe Radinovich (323)
12A – Jay McNamar (255)
The DFL won these three open seat races (with hPVIs of R+5, R+5, and R+4 in descending order) and they will all likely face competitive races again in 2014.
48A – Yvonne Selcer (202)
Yvonne Selcer raised substantially more money than Rep. Kirk Stensrud and this was only an R+3 district, so it might not have been expected to be this close. But there was an avalanche of IE money in this race and that may have helped Stensrud keep up.
It will be interesting to see if Stensrud runs in 2014, but either way the GOP will no doubt contest this seat heavily once again.
56B – Will Morgan (170)
This is the fourth open seat on this list, this one more Republican leaning than the other three at R+6. This district is the most Republican leaning of the five districts on this list won by the DFL. And it's R+6 tilt represents a sort of inflection point.
Some Analysis
All the districts on this list won by the DFL had hPVIs of R+6 or better (for the DFL), while all the districts (except 1B) won by the GOP had hPVIs of R+6 or worse.
Overall, the most Republican leaning district won by a Democrat was 10A (R+8), won by Rep. John Ward. The most Democratic leaning district won by a Republican was 1B (R+1), won by Rep. Deb Kiel. It may or may not mean something that both of these districts were held by incumbents.
The real state of play this past election occurred in districts in the R+3 through R+5 range. The DFL picked up two seats that were more Republican than this range, and the GOP picked up two seats that were more Democratic. But within this range it was a scrum with the DFL winning nine seats and the GOP winning eight.
The inflection point of the entire list of house races is around R+3.75. hPVI doesn't actually use decimals of course, it's not a metric that is meant to be that precise. But in the calculating of it, the raw hPVI numbers are that precise.
And this R+3.75 inflection point is exactly what past Minnesota election results suggest that hPVI's natural bias is.
Thanks for your feedback. If we like what you have to say, it may appear in a future post of reader reactions.